Chocolate Chip Coffee Cake Muffins with Pecan Streusel Topping
Coffee cake muffins with chocolate chips and a crunchy pecan streusel topping. Breakfast or dessert? These muffins are easy to make and just as easy to eat!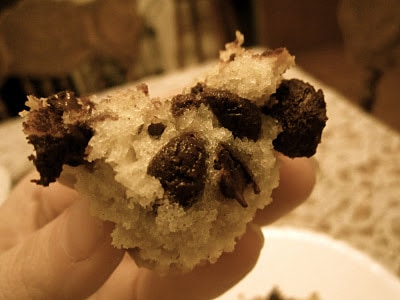 My office is full of stress. I am a case manager at a community mental health center and I share an office with many other case managers. It is an amazing job. I love the work and the people. But it can be very stressful.
I am very new there and my co-workers have been so fantastic helping me navigate the world of case management. But I am beginning to notice the international sign for displaying one's stress level. It mostly involves a loud sigh, or series of sighs, the second you enter the door and my office is full of this behavior. So to brighten my co-worker's day I decided to bake them something special. And this morning as people entered, sighed, and shuffled over to the coffee pot you could hear "oh man! who brought muffins!?" with a glimmer of excitement in their voice. There is just something about homemade baked goods that always seems to make things better. . .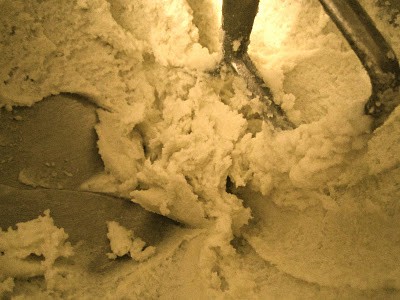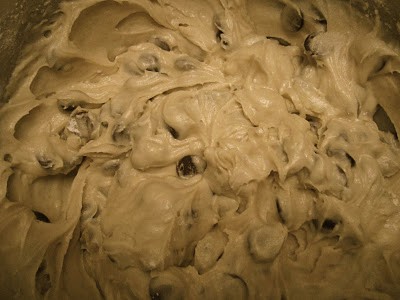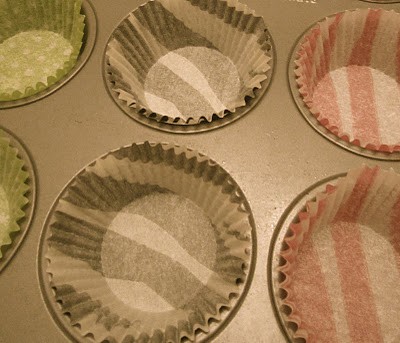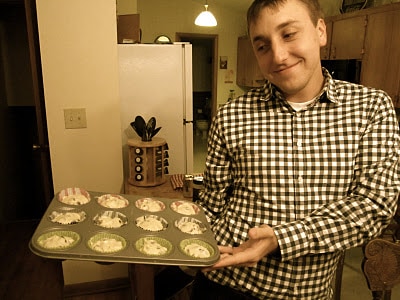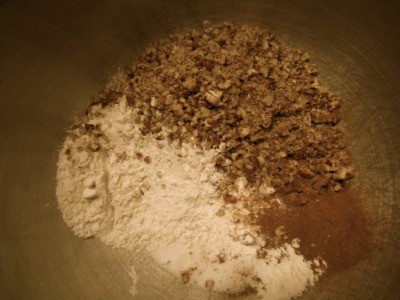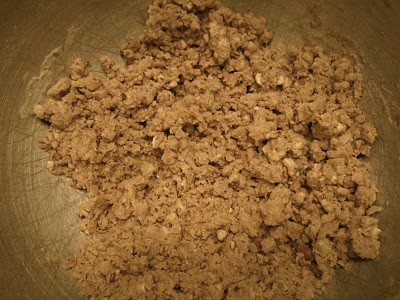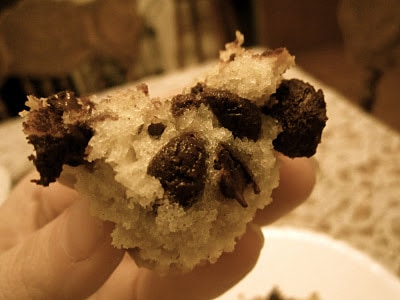 The recipe is an adaptation from Ina Garten's Blueberry Coffee Cake Muffins
Baker Bettie
Yields 16-18
Chocolate Chip Coffee Cake Muffins with Pecan Streusel Topping
10 minPrep Time
25 minCook Time
35 minTotal Time
Ingredients
for the muffins
1 1/2 sticks Butter
1 1/2 cups Sugar
3 large Eggs
1 Tbsp Vanilla
1 cup Sour Cream
1/4 cup Milk
1 tsp Kosher Salt
2 tsp Baking Powder
1/2 tsp Baking Soda
1/2 tsp Cinnamon
2 1/2 cups Flour
12 oz Bittersweet Chocolate
for the pecan streusel topping
3/4 cups Brown Sugar
3/4 cups Flour
1/2 cup Chopped Pecans
1 tsp Cinnamon
1/4 cup softened Butter
1 Tbsp water
Instructions
for the muffins

Preheat oven to 350 degrees.
Beat butter and sugar with a mixer fitted with a paddle attachment until light and fluffy.
Add eggs one at a time while mixer is on slow speed.
While mixing on slow speed add milk, sour cream and vanilla. With mixer still on add salt, baking powder, baking soda, cinnamon, and slowly add flour until all incorporated. Mix in chocolate chips.
Line baking tins with liners.
Fill liners with batter about 3/4 full.
Bake for 23-26 minutes, or until lightly browned and a toothpick stuck in the middle comes out clean.

for the pecan streusel topping

Mix all ingredients together until crumbly.
Top muffins with 1 tbsp of the mixture before baking if desired.
7.6.2
6
http://bakerbettie.com/chocolate-chip-coffee-cake-muffins-with-pecan-streusel-topping/
[line]
[vc_row no_margin="true" inner_container="true" bg_color="#272727″ border="top" padding_top="8%" padding_bottom="8%"][vc_column width="1/1″ fade="true" fade_animation="in" fade_animation_offset="45px"][container class="center-text"][button class="mbm" href="http://eepurl.com/Tchy5″ title="Subscribe!" size="jumbo" shape="square" float="none" circle="true" icon_only="true" target="blank" info="none" info_place="top" info_trigger="hover"][icon type="envelope-o"] SUBSCRIBE VIA EMAIL[/button][text_output]
JOIN OVER 6,000 SUBSCRIBERS TO RECEIVE MORE FREE RECIPES, BAKING TIPS, TECHNIQUES, AND FOOD SCIENCE DIRECTLY TO YOUR INBOX! (emails are sent weekly)
[/text_output][/container][/vc_column][/vc_row][vc_row no_margin="true" padding_top="10px" padding_bottom="10px" border="none"][vc_column width="1/1″][line][/vc_column][/vc_row]