4 Ingredient Crusty Bread Bowls
With only 4 ingredients, this easy bread bowl recipe could not be simpler to put together! Water, flour, yeast, salt are the only 4 ingredients you need to create perfectly crusty bread bowls for your favorite soup or dip!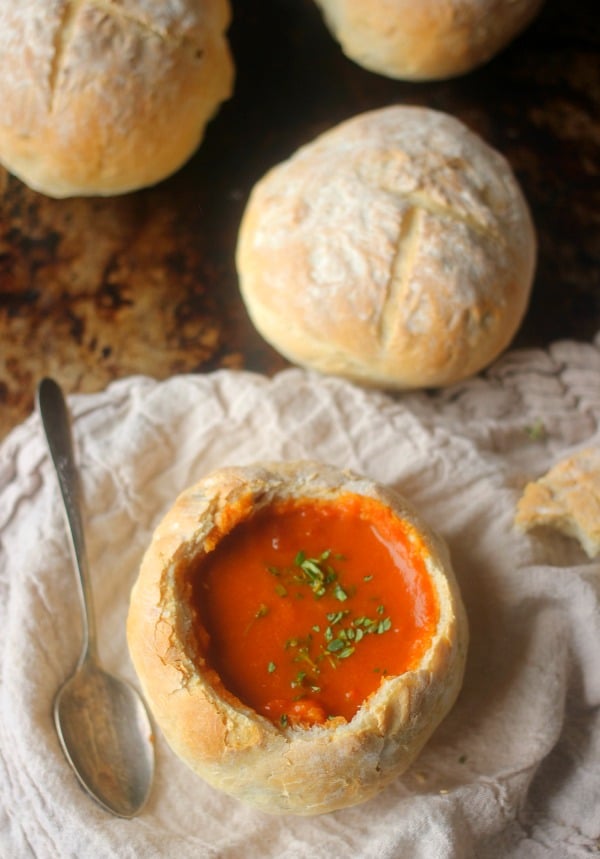 A few years ago I posted a recipe for how to make homemade bread bowls. I have never been completely satisfied with that recipe. Don't get me wrong, it is bread after all! I will eat bread pretty much any which way. But I've always wished those bowls were  a little easier to make and a whole lot crustier on the outside.
I decided that there is definitely room for two bread bowl recipes on this site, especially since this one is so darn easy! If you are a soft and fluffy bread bowl person, then that old homemade bread bowl recipe is for you! But if you want something that is a little crustier on the outside and chewy in the middle, then this easy bread bowl recipe is exactly what you've been searching for!  Remember that super easy rustic yeast bread I showed you how to make? Well this is pretty much the same idea, except the bread is split into four pieces which ends up being the perfect size for a carby soup bowl! I have come to the conclusion that eating soup out of a bowl that isn't edible is kind of pointless.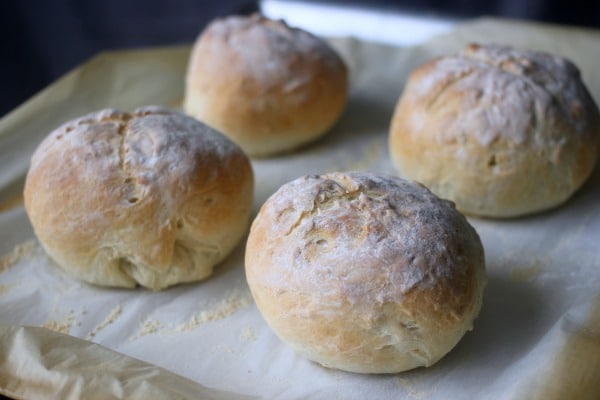 The wind in Chicago today is crazy! It is grey and cold and just plain miserable out. I'm definitely going to cozy up with one of my leftover bread bowls and some of my creamy tomato and herb soup for lunch. My week long battle with the flu is coming to an end and I think that is just what I need!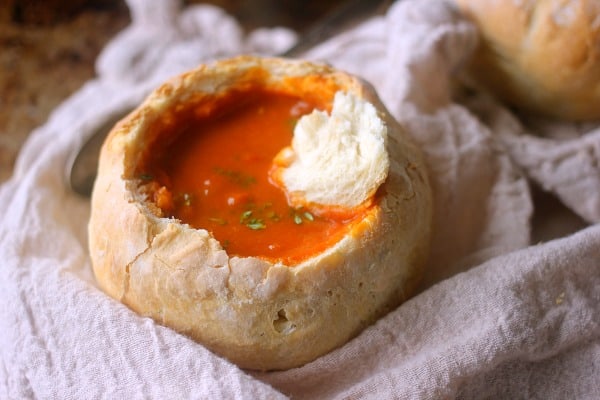 Baker Bettie
Yields 4
Easy Bread Bowl Recipe
2 hrPrep Time
30 minCook Time
2 hr, 30 Total Time
Ingredients
4 1/3 cup all purpose flour, plus extra for kneading and dusting
1 package instant or rapid rise yeast (2 1/4 tsp if measuring from bulk)
1 TBSP kosher salt
1 1/2 cups very warm water (not hot water, about 120F)
olive oil for greasing the bowl
Instructions
In a large bowl, whisk together the flour, instant yeast and the salt. Add the warm water to the bowl and stir until combined.
Knead the dough in the bowl until it forms together in a ball.
Lightly dust a clean work surface with flour, and knead the dough for about 7 minutes until smooth and elastic. Alternatively, you can do this in a stand mixer fit with the dough hook attachment at medium-high speed for about 5 minutes.
Grease a clean bowl with oil, and place the dough in the bowl, turning to coat all sides. Cover the bowl with a towel and let rise in a warm spot until doubled in size, about 1 hour.
Gently deflate the dough by pressing in the center. Place the dough on a clean work surface and cut it into 4 equal pieces.
Shape the dough into bowls by pulling down on the edges then rolling the dough under your hand to seal the seam on the bottom (see the video for a demonstration). Place the shaped bowls on a sheet pan lined with parchment paper and cover with a towel to rise for 1 hour.
Preheat your oven to 425F.
Lightly dust the bowls with flour and use a sharp knife to slash the top of the bowls with an X pattern. Bake at 425F for 30 minutes, or until golden brown and crusty.
Let the bread cool slightly. Use a pairing knife to cut a circle out of the top of the bowls. Use a spoon to scoop out some of the extra bread so that you have enough room in the bowl for soup. Reserve the bread for dipping.
Unused bowls can be cooled completely, wrapped well in plastic wrap and stored in the freezer. Rewarm in a 325F oven until heated through.
7.6.4
178
http://bakerbettie.com/easy-bread-bowl-recipe/