Espresso, Pecan, and Dark Chocolate Coffee Cake
This recipe for dark chocolate pecan coffee cake that is really flavored with coffee! This is not your ordinary coffee cake. This is coffee flavored coffee cake for an extra jolt in the morning!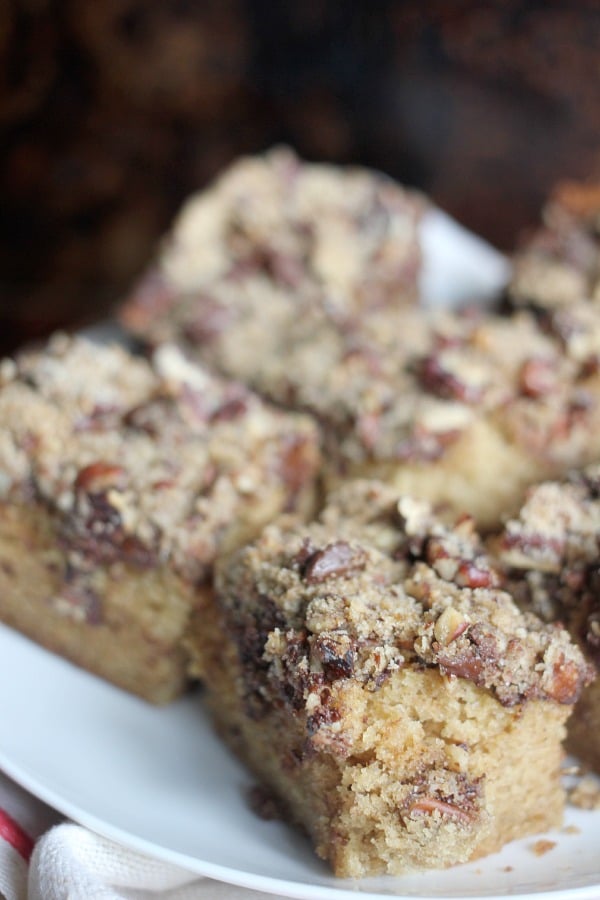 One of the worst pains I have known in my life is the pain of seeing the person you love more than anything mourning. Knowing  that they are in an incredible amount of pain and despair and feeling as though there is nothing I can do to put their heart at ease.
Wishing I could fast forward time for them to the day when it will feel at least a little bit easier. But instead, I sit by their side and hold their hand and hope that it's enough. Yet I know that nothing ever will be.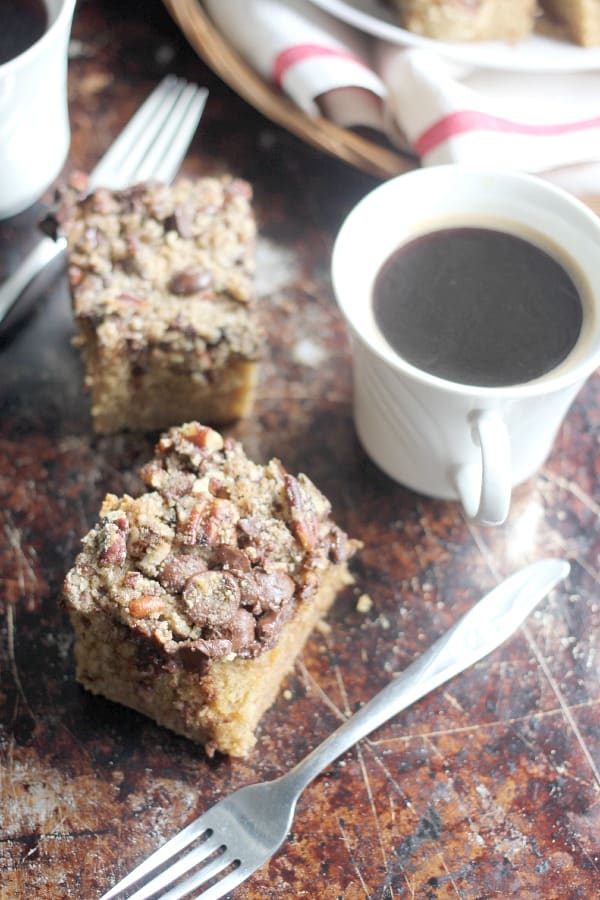 It is always my knee jerk reaction to turn to food. To feed someone in their time of emotional need. I frantically think of what I can do to make it easier and I end up offering food. "What can I make you? Let me make you this, or that!"
Like food is going to heal the soul or something. And maybe it does, in a way. For most of us, food feels nurturing. But it can also feel insignificant in a time of loss.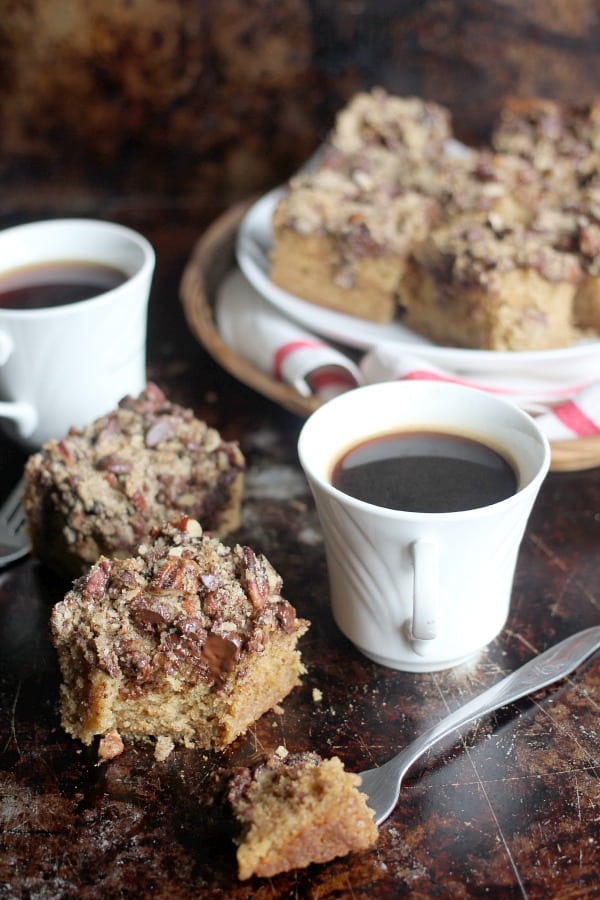 I just hope that those who have experienced my constant offer to feed them or my non-negotiable gift of food, know that it comes from the most sincerest love. That is is my way of saying and showing that I am here. For more than just filling your belly.
I am offering you the best way I know how to care for someone. But I am here for hugs, to listen if you want to talk, or to simply hold your hand too.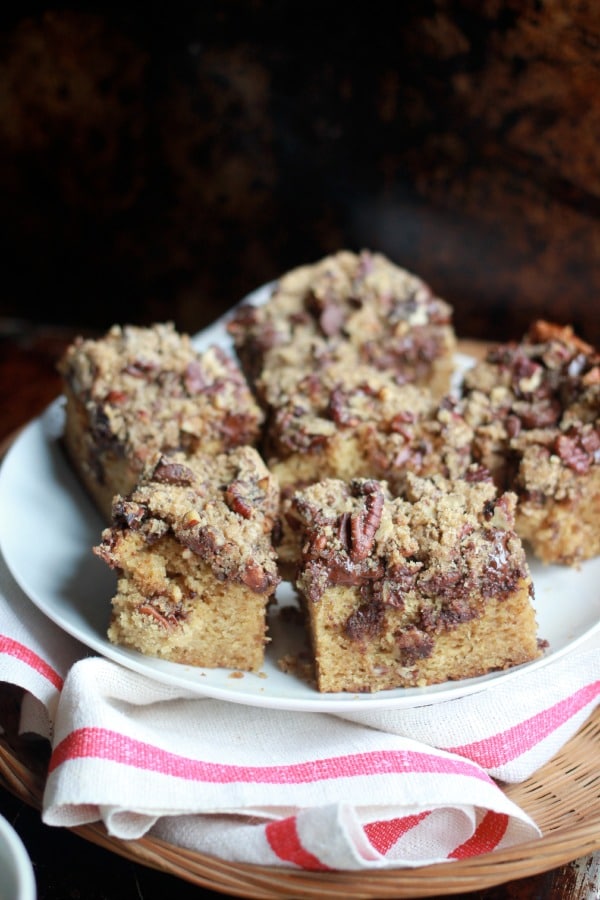 Baker Bettie
Yields 24
Espresso, Pecan, and Dark Chocolate Coffee Cake
20 minPrep Time
1 hrCook Time
1 hr, 20 Total Time
Ingredients
4 cups unbleached all-purpose flour
2 cup packed light brown sugar
1 cup granulated sugar
2 sticks unsalted butter, at room temperature
1 1/2 teaspoon kosher salt
1 1/2 cups chopped pecans, toasted*
6 ounces bittersweet chocolate, finely chopped
4 tsp espresso powder (divided)
2 teaspoons baking soda
2 tsp cinnamon (divided)
2 cups buttermilk
2 large egg
1 teaspoon pure vanilla extract
1 teaspoon pure almond extract
Instructions
Preheat the oven to 350?F. Spray a 9X13 inch baking dish with vegetable oil spray and line the bottom with parchment.
In the bowl of a stand mixer fitted with the paddle attachment (or in a large mixing bowl, using a handheld mixer), mix together the flour, both sugars, the butter and the salt until the mixture resembles coarse meal.
To make the crumb topping, transfer 1 1/2 cup of the mixture to a small bowl and stir in the toasted pecans, chocolate, 2 tsp of espresso powder, and 1 tsp of the cinnamon. Set aside.
Add the baking soda and remaining 2 tsp espresso powder, and remaining 1 tsp cinnamon into the remaining butter-sugar mixture, add the buttermilk, egg, vanilla, and almond extract, and mix just until combined.
Scrape the batter into the prepared baking pan, spreading it evenly. Sprinkle the crumb topping evenly over the batter.
Bake for 50-60 minutes, until the top is golden brown and a cake tester inserted in the center of the cake comes out clean. Remove to a wire rack and allow to cool in the pan.
Notes
Source: Adapted from The Back in the Day Bakery Cookbook
7.6.4
102
http://bakerbettie.com/espresso-pecan-dark-chocolate-coffee-cake/