The Fudgiest Brownies in All the Land
This recipe seriously makes the absolute fudgiest brownies you will ever eat! The recipe only calls for 6 ingredients and is incredibly simple to make! The brownies border on the texture of a chocolate truffle and are incredibly rich and decadent. You'll never need another brownie recipe!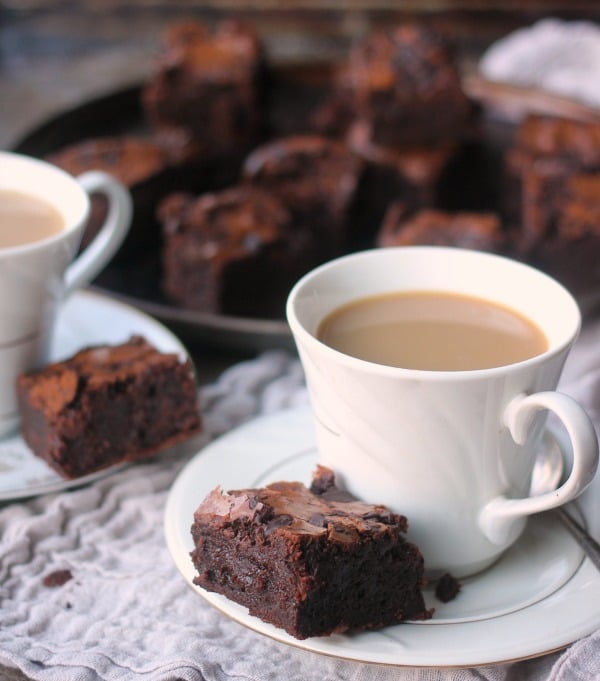 I've been trying to figure out what to name these brownies for a few days now. I have other brownie recipes on this site, but I NEED to convey to you through words just how mind-blowing these are
. That is if you like intensely rich and fudgy brownies. And when I say fudgy, I mean the fudgiest. Scouts honor.
I have tried so many brownie recipes that claim to be fudgy and then aren't. These do not disappoint. I mean, we are kind of bordering on ganache with the consistency of these. Not all the way there, that would be too much.
But think about the creamy, fudginess of chocolate truffle and then pull that back by like 25%. That's where we are at with these. Are you with me?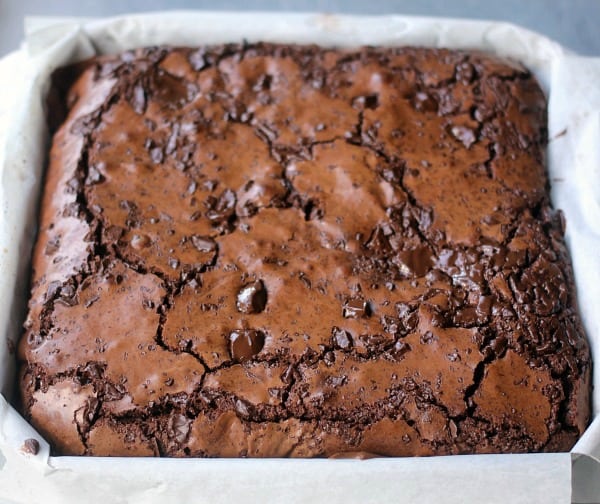 Can we just take a moment and worship that crackly top? I mean, is there anything more beautiful? I'll give you a moment…
Ok, we need to discuss the deats on this beautiful pan of brownies. Let me give you the low down on what about this recipe makes these so ridiculously fudgy but also I want to talk about the technique of making them because that is equally important.
The good news about this recipe is that it is actually really easy to put together and really only has minimal ingredients! There are literally only 6 ingredients and they are: butter, bittersweet chocolate (a lot of it!), eggs, sugar, ap flour, and salt! THAT'S IT!
I actually adapted this recipe from the one in The Baker's Manual. I could tell pretty instantly after reading the recipe that it was going to be amazingly fudgy and here is why.
There is quite a high ratio of butter, chocolate, and eggs in this recipe and barely any flour at all. Just enough to bind everything and give it structure. There is also no baking powder or baking soda.
That always confuses me when I see a recipe that is supposed to result in dense fudgy brownies and then the recipe calls for chemical leavenor. Needless to say, those recipes usually disappoint.
So we have a good ingredient lineup now we just need to put those ingredients together properly!
---
TIPS FOR KEEPING THESE BROWNIES THE FUDGIEST
TIP #1: DON'T OVER-WHIP THE EGGS
The eggs are going to get whisked together with the sugar but JUST UNTIL COMBINED. We aren't whipping air into the eggs. There is no need to whisk for a long period of time. Just break the yolks and whisk until the mixture is smooth, then stop, and get rid of the whisk!
TIP #2: USE A SPOON TO MIX THE BATTER TOGETHER
Other than when mixing the eggs with the sugar, you don't want to use a whisk when combining the ingredients. Use a spoon or spatula so that you can mix the ingredients together without over-mixing.
TIP #3: SLOWLY ADD THE MELTED CHOCOLATE TO THE EGGS
You want to be very careful not to cook the eggs when adding the melted chocolate/butter mixture into the egg/sugar mixture. Allow the chocolate mixture to cool slightly and then very slowly stream it into the egg mixture while stirring continuously. This will keep your mixture smooth and prevent the eggs from cooking.
TIP #4: DON'T OVERDEVELOP GLUTENS
Once you have added the flour into your batter stir just enough to incorporate and then STOP! Over-mixing is the quickest way to tough and dry brownies.
TIP #5: BAKE IN A 9×9″ PAN
This is quite a lot of batter for this size of pan which will make for really thick brownies. The thickness of the brownies helps keep the middles really moist (yeah, I said it) and fudgy!
TIP #6: UNDERBAKE SLIGHTLY
You know how baking instructions usually say "test the cake/brownie and remove from oven when a toothpick inserted in the center comes out clean?" Erase that from your mind for this recipe! If a toothpick is coming out clean you have gone waaaay to far with the baking and these will be dry. You want the edges and crust to be set, but the center should still be gooey. The brownies will set as the cool.
---
That's it! Because these are soo intensely rich, thick, and fudgy, you can cut them pretty small. I cut mine into 16 pieces, but was breaking them in half when I ate one. I think cutting them into 25 pieces would be a great size!
Mr. BB is already asking me to make more for this weekend. They are by far the best brownies I have made him. These would be awesome with the addition of toasted pecans or walnuts for some texture and contrast from the intense chocolate. Or swirled with some peanut butter?!?! YUMMMM!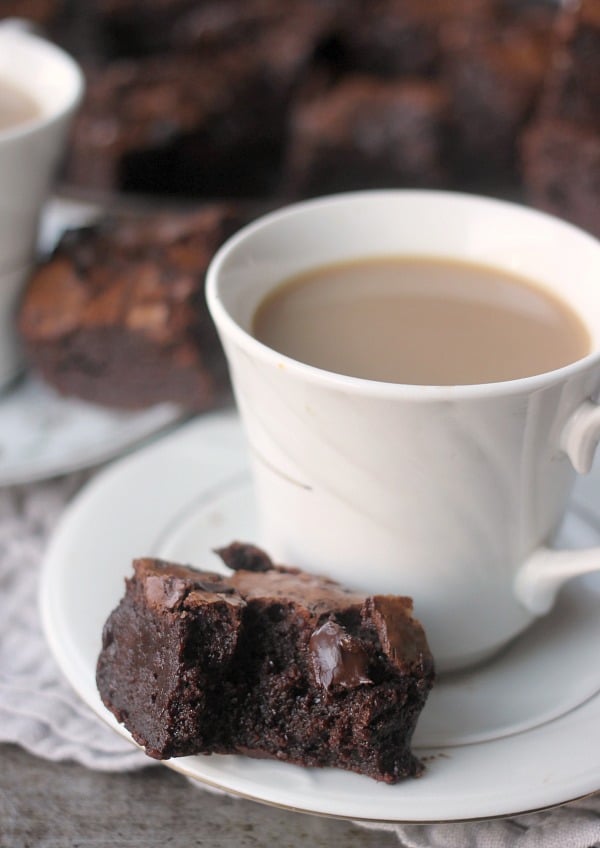 Baker Bettie
Yields 16-24
The Fudgiest Brownies
10 minPrep Time
40 minCook Time
50 minTotal Time
Ingredients
3/4 cup (1 1/2 sticks, or 6 oz, or 170 grams) unsalted butter, cut into small pieces
10 oz (283 grams) bittersweet chocolate (or chips), chopped (plus 2 more ounces for topping if desired)
4 large eggs
1 cup (7 oz, or 198 grams) granulated sugar
1/2 cup (2.1 oz, 60 grams) all-purpose flour
3/4 tsp kosher salt
Instructions
Line a 9X9 inch baking pan with parchment paper and set aside. Preheat the oven to 350 degrees F and position an oven wrack in the middle of the oven.
In a saucpan, melt the butter over low heat. Once melted, remove from the heat and add in the chocolate. Stir frequently until smooth. If the chocolate does not completely melt, place the pan back over low heat and stir continuously until smooth. Remove from the heat and let cool slightly.
Meanwhile, in a large bowl, whisk together the eggs and sugar. Set the whisk aside and use a spoon or rubber spatula for the rest of the mixing. Slowly stream the melted chocolate/butter into the egg/sugar mixture while stirring continuously.
Add the flour and salt and stir just until combined. If desired, fold in more chopped chocolate.
Spread the batter evenly into the prepared baking dish. If desired, you can also sprinkle some chopped chocolate on top. Bake at 350F for 35-40 minutes or until a tester inserted in the center comes out with very moist crumbs clinging to it (not liquid batter, but crumbs).
Cool completely before removing from the pan and cutting. Brownies will set up once cooled.
7.6.4
60
http://bakerbettie.com/fudgiest-brownies-recipe/
Products I used for this recipe…
Disclaimer: Please note that the links below are affiliate links and I will earn a commission if you purchase through those links.
[AMAZONPRODUCTS asin="B000F741W6″][AMAZONPRODUCTS asin="B00JK9629U"][AMAZONPRODUCTS asin="B00004OCNS"]