Homemade Oreos with Raspberry Filling
I have figured out the texture of an oreo for a homemade version! A rich chocolate crunchy and crumbly cookie with a creamy but stiff filling! These are so much better than the store bought version.
Keep them plain, or add freeze dried raspberry powder to give them a pretty pink color and to add tartness to the filling! Happy Valentine's Day! 
You guys! I have been the worst blogger ever! It has been almost two weeks since I've posted a brand new recipe and I've had this one photographed for over a week and just haven't been able to find the time to get it posted! I'm sorry!
I meant to give you this in time for Valentine's Day, but here it is already the day of love and I'm just now getting it to you! The good news is that oreos don't have a season. These would be amazing anytime of the year and my husband definitely will eat them anytime and anywhere.
When I had the idea to make these I knew that texture would be the challenge. I needed the cookie to be crunchy and crumbly but not dry and I needed the filling to be creamy yet stiff and for it to hold its shape. And I figured it out on both!
The filling is awesome on it's own. It definitely has the texture and taste of oreo filling. I added freeze dried raspberries ground to a powder to give it the pink color and raspberry flavor, but you could definitely omit that for a traditional oreo flavor!
I also suggest trying to roll these thinner than I did. They were still great at this thickness but the ones that did get really thin were pretty spot on in mimicking an oreo and definitely taste better and more fresh!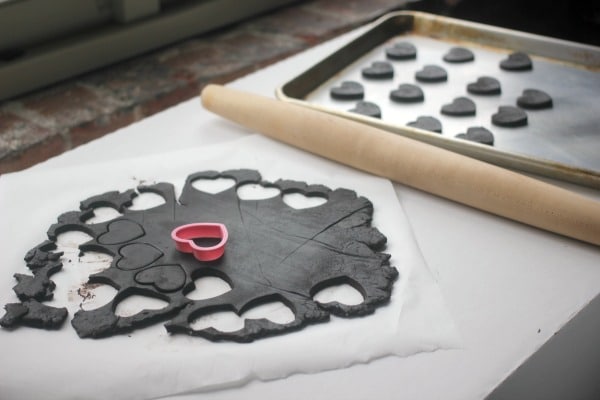 This Valentine's Day I am feeling all kinds of lovey feels. My husband and I are filled with excitement and joy as we are about to move to Chicago in a few weeks!
That is my excuse for my lack of keeping up. I'm trying!! But with all the packing, working, training my replacement, looking for an apartment in Chicago, looking for me a job in Chicago, then FINDING the perfect job, I have just been all over the place!
But it is all falling into place and Mr. BB and I couldn't be more excited. I really do feel like Chicago is where we will settle and stay. It feels like home when we are there and we both love it!
I hope you get to spend today with some people you love! Pamper them and let them pamper you! The Beatles said it best, love is all you need. <3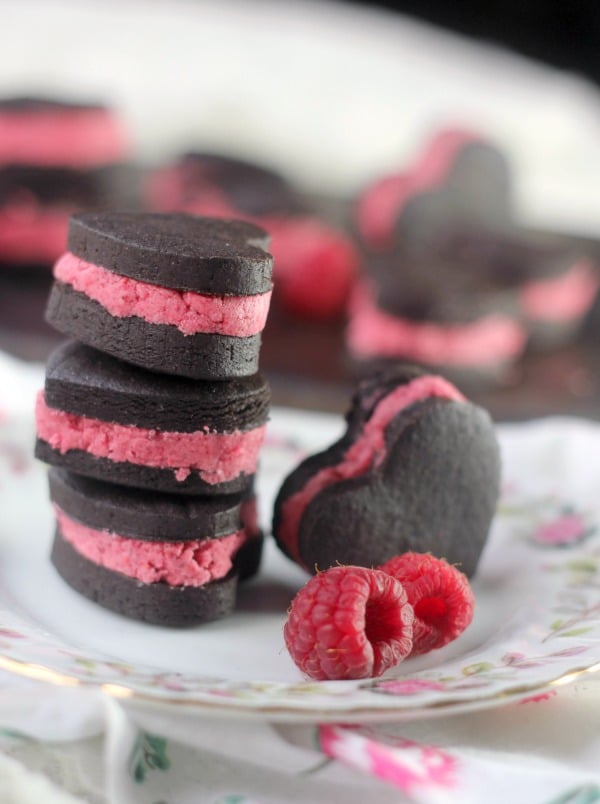 One year ago: Dark Chocolate Custard with Meringue
Two years ago: White Chocolate Strawberry and Dark Chocolate Fudge Cake
Three years ago: The Science of the Chocolate Chip Cookie

Yields 2
Homemade Oreos with Raspberry Filling
1 hr, 15 Prep Time
20 minCook Time
1 hr, 35 Total Time
Ingredients
For the Cookies
3/4 cup cocoa powder (natural or dutch processed, dutch processed will give the more truer dark brown color of oreos)
1 1/4 cup all-purpose flour
1/4 tsp kosher salt
1 stick unsalted butter, softened
3/4 cup granulated sugar
1 large egg
1/2 teaspoon vanilla extract
For the Filling
1- 1.2oz package of freeze dried raspberries (optional, I get these at Trader Joe's)
3 1/2 cup powdered sugar (possibly more if needed)
1/2 tsp vanilla extract
1/2 cup vegetable shortening
2 TBSP hot water
Instructions
Combine cocoa powder, flour and salt in a medium mixing bowl and whisk together until well combined.
in the bowl of the stand mixer fit with the paddle attachment, or in a large bowl with an electric mixer, cream the butter and sugar. Add the egg and vanilla extract and beat well. Scrape down the bowl.
Add the flour mixture in 3 parts, mixing until incorporated and scraping down the bowl after each addition. Only mix just until incorporated and no more. This dough will become too stiff if you overmix.
Gather your dough into a ball and place between two sheets of parchment paper. Roll the dough out till it is 1/4 inch thick. Leave the parchment sheet on and chill in the refrigerator for at least one hour.
Preheat the oven to 350F and lightly spray a cookie sheet with non-stick spray. Set aside.
Once your dough is chilled, use a small heart cookie cutter or 2 inch round cutter to cut the dough. Place the cut cookies on your baking sheet, about an inch or more apart.
Bake in preheated oven for 18-20 minutes. Remove from the oven and let them cool on the baking sheet for a couple of minutes before removing to cool completely on a wire rack.

For the Filling

If using, grind the entire package of freeze dried raspberries in a food processor or spice grinder until it is a powder. If you do not want seeds in your filling, sift the powder through a fine mesh sieve to remove the seeds.
In a large bowl with a hand mixer combine all of the filling ingredients until well combined. If not using the raspberry powder you may need a bit more powdered sugar if the mixture is not stiff enough.
Fill the cooled cookies with the filling.
7.6.4
155
http://bakerbettie.com/homemade-oreos-raspberry-filling/
Tools I used for this recipe…
[AMAZONPRODUCTS asin="B0000CF4KC,B00COVHNXA,B00HG5OXIW"]
Disclaimer: This post contains affiliate links.