Light and Fluffy Meringue Pancakes
Extremely light and airy pancake recipe without baking powder! The pancakes are made by folding a simple meringue into the batter. This recipe requires no-baking powder or baking soda and can be whipped together in minutes! 
I try to notice trends when looking at my stats for the blog. Trends of search terms that are bringing people here. It helps me gauge what is most popular and if I'm missing out on a topic that people are really interested in.
I've been noticing lately that a common search term people are using to get here is "pancake recipe without baking powder." That search is probably taking everyone to my 5 Ingredient Classic Pancake Recipe. And everyone is probably very disappointed when they get there only to find out that one of the 5 ingredients is in fact baking powder. Oh yeah, and there is also that part where I stress that it absolutely cannot be left out.
So I've been mulling this over for some time. Thinking about how I could make pancakes that still have lift without baking powder or baking soda. And it finally occurred to me that egg whites are often whipped and folded into waffle batter.
I wanted to try this technique for pancakes too because I thought I was super genius in making this connection. Then upon research, I found out that this is already a thing. I'm not sure how I have never heard of this until now, but the problem with all of the recipes I found that used whipped egg whites is that they also call for baking powder.
I decided to create a very easy recipe that replaced the lift from baking powder by folding in a simple meringue. And it worked!
This technique creates incredibly light and airy cakes that are not heavy or dense. The pancakes don't sit like a rock in your stomach like regular pancakes can. The texture is definitely different than traditional cakes, but I think I like these better! And these can be put together just as quickly and as my 5 ingredient recipe. Try them and let me know what you think!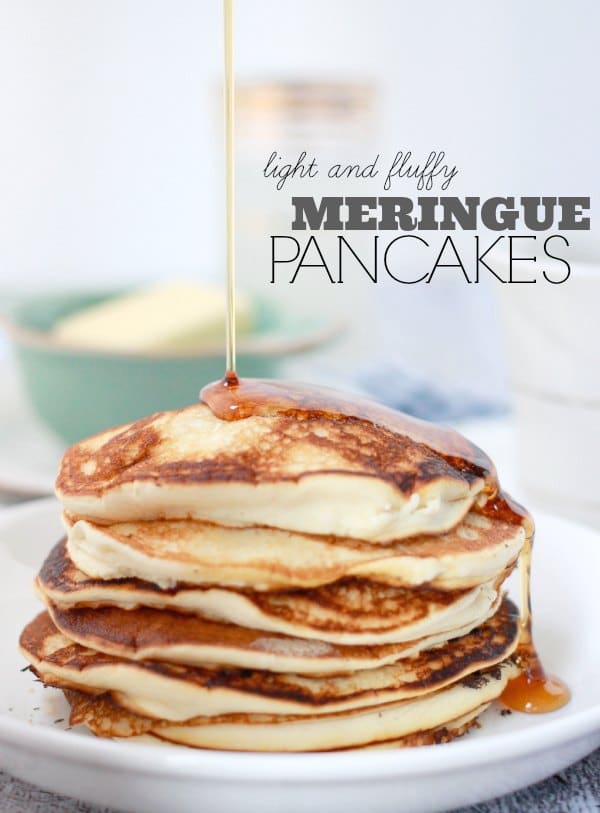 Light and Fluffy Meringue Pancakes (Pancakes Without Baking Powder)
This is an extremely light and airy pancake recipe without baking powder or baking soda! The pancakes are made by folding a simple meringue into the batter making the pancakes very fluffy!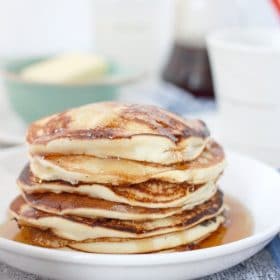 Ingredients:
1 cup flour
1/4 tsp kosher salt
1 cup milk
1 tsp vanilla
2 egg yolks
3 egg whites
1/4 cup sugar
Directions:
In a large bowl, stir together the flour, salt, milk, vanilla, and egg yolks just until smooth. Do not over-mix.
In a separate bowl, whip the egg whites and sugar to stiff peaks. Gently fold the whites into the batter until there are no visible white streaks.
Heat a griddle or skillet over medium high heat. Pour about 1/4 cup batter per cake onto the greased skillet and gently spread the batter out to a circle with the back of a spoon or measuring cup. Bubbles will still form on top even though there is no baking powder. Flip the cakes once, when the bubbles pop and the bottom is lightly browned. Cook until lightly browned on the other side.Keep warm in a 200F oven if not serving immediately.
All images and text ©
.
Products Featured in this Recipe:
(may include affiliate links)