Belgian Waffle Recipe (aka Liege Waffles) made with the sweet yeast dough master recipe and an easy and cheaper substitute for pearl sugar! Chewy, yeasty, and crisp and caramelized sugar bits will make these waffles your fast favorite!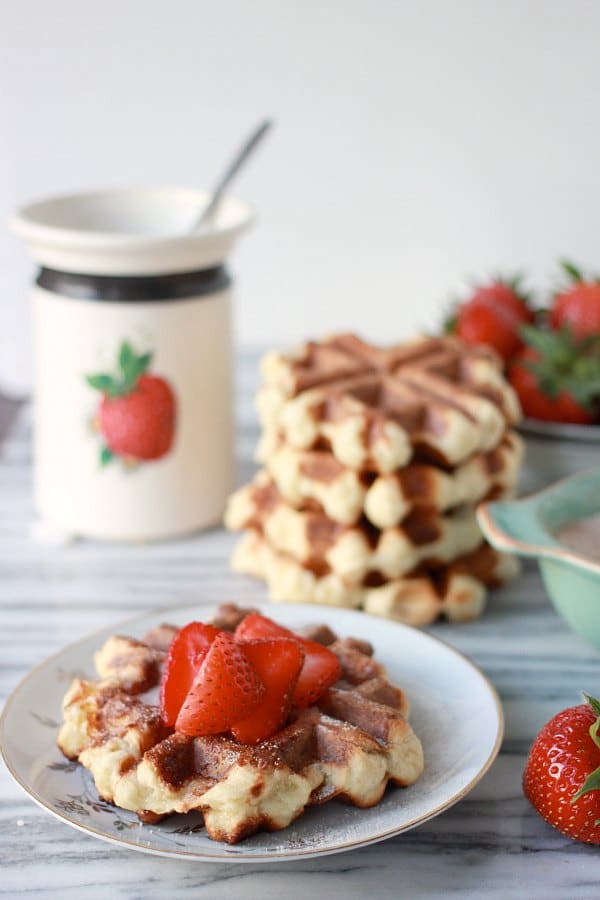 Have you ever had a real Belgian waffle? Or a liege waffle? If you haven't, then I need for you to image this: A waffle made from sweet yeast dough. A puffy waffle that is chewy on the inside and crisp on the outside. The flavor is complex in it's yeastiness.
Oh, and then there's the caramelized sugar. The big hunks of pearl sugar mixed throughout the dough that caramelizes on the outside creating incredible crunchy, crispy, caramelized bits of heaven all throughout the waffle. It is it's own thing.
You can't even compare them to other kinds of waffles. They are a whole new level of waffle.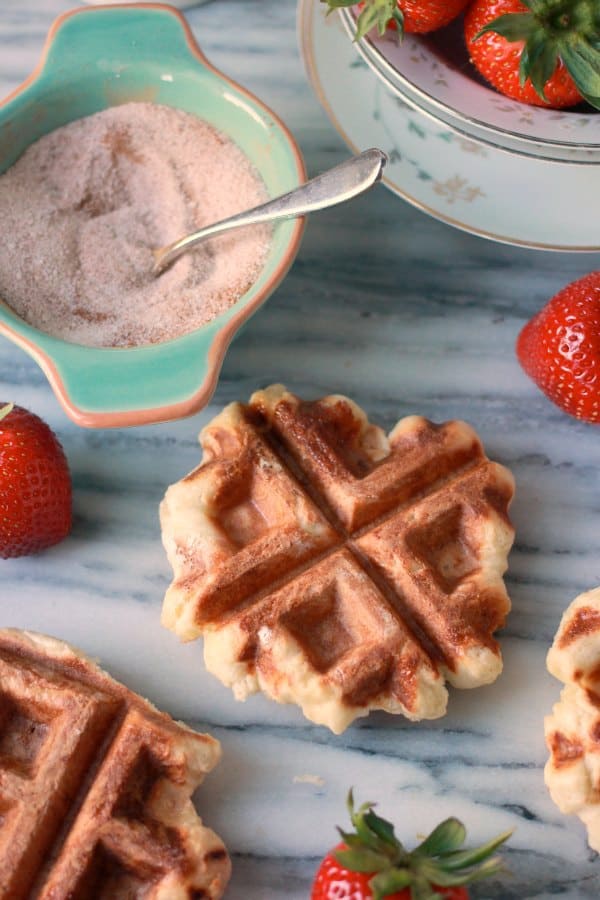 When I started playing around the that basic sweet yeast dough recipe a few weeks ago I added Liege waffles to the list of things I wanted to use it for. I have been wanting to make them for a while.
The only problem was the pearl sugar. It is not an easy thing to find here in the states and you can definitely order it online, but I really don't like creating recipes that require ordering things online. It just isn't convenient for anyone. And I want my readers to actually make the recipes. Not just look at them and drool. That's no fun. No fun at all.
So I set out to find a way to make these taste like authentic Belgian waffles without the pearl sugar. I was roaming through the baking section at the grocery store when I had an "aha!" moment. Sugar cubes!
I snached up a 1 dollar box and set out to make faux pearl sugar! I broke them into smaller but still fairly large pieces of sugar to mix into the dough. It worked like a charm! I actually really loved the inconsistencies in the sizes of the pieces. It creates some really crunchy caramelized bits, and others that are smaller. Total heaven.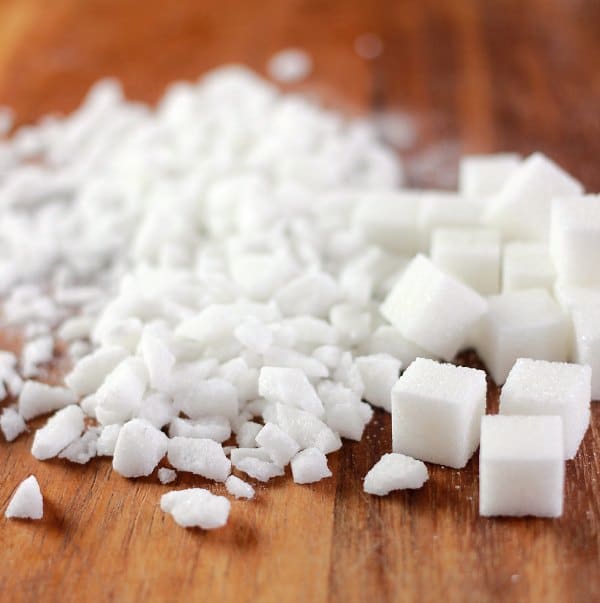 I guess I could get myself into trouble by calling these "Real Belgian Waffles" since I'm not using "real belgian pearl sugar." And by all means, if you have pearl sugar or want to get some, please do and use it!
But trust me! The sugar cubes work so well too! Just remember you don't want them to be tiny pieces. You want to keep them fairly large. Think about keeping the pieces about 1/4 to 1/5 the size of the actual cube. I put them in a plastic bag and broke them up with a meat mallet being careful not to break them up too much.
The pearl sugar (or faux pearl sugar) makes these waffles incredibly sweet and decadent on their own. You really don't need any toppings for them. Hot right out of the waffle iron is absolute perfection.
But we also sprinkled them with a bit of cinnamon sugar and topped with some strawberries. That was tasty too! But I think I prefer these babies plain the best.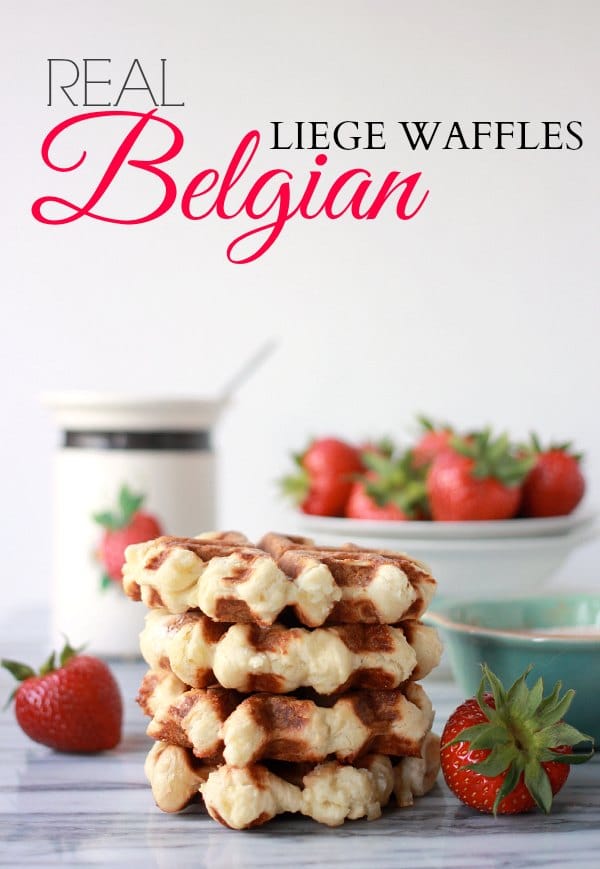 For a detailed tutorial with pictures about making the base dough, check out this post!

Baker Bettie
Yields 10-12
Real Belgian Liege Waffles
1 hr, 45 Prep Time
15 minCook Time
2 hrTotal Time
Ingredients
1 cup whole milk (lower fat milk can be substituted)
1 package (0.25 oz) active dry yeast (not instant or rapid rise) (2 1/4 tsp if measuring from bulk yeast)
1/2 cup granulated sugar
1/3 cup unsalted butter, room temp
2 eggs, room temp
1 tsp salt
4 cups all-purpose flour
6 oz sugar cubes, broken into large pieces (or pearl sugar)
Instructions
In a saucepan, heat the milk over medium heat until it just starts to barely bubble. Just under a simmer. Remove the milk from the heat, pour into a bowl, and let cool for 5 minutes.
When the milk is cooled to warm, add the active dry yeast to the milk and stir together. Let sit for 5 minutes to proof.
In a large bowl, stir together the sugar, butter, eggs, salt, and flour. Add the milk/yeast mixture and stir together until it forms a dough.
On a lightly floured surface, knead the dough for about 5 minutes until its smooth and elastic. Alternatively, you can knead with a dough hook in a stand mixer. The mixture will seem quite wet at first, but will form a smooth soft dough once kneaded in the mixer for the full time. If the mixture is too wet after kneading, add more flour 1 TBSP at a time until a soft but sticky dough forms. This will not be wet like a traditional waffle batter. It should be like a bread dough.
Place the dough in an oiled bowl, turn to coat, cover with a towel, and let rise in a warm place until doubled in size, about 1 hour.
Deflate the dough by gently pushing your fist in the center and folding the sides over.
Place the dough back into the mixer fitted with the dough hook and pour in all of the sugar cube pieces (or pearl sugar). Mix until evenly incorporated.
Break the dough into small pieces, about 2 1/2 oz each. You should get about 10-12 pieces. Cover the dough with plastic wrap and let rest for about 30 minutes.
Heat your waffle iron up. Remember, sugar begins to burn at temps above 350ºF. If your waffle iron doesn't have a temp dial you may have to do trial and error to see the setting that will give you the best caramelization without burning. Most waffle irons heat much hotter than 350. My medium setting was perfect for these, however some other recipes suggest getting your iron hot and then turning it off as the waffle cooks to prevent burning. I had no problems with burning, but test your iron to see what works best.
Lightly grease the heated iron then place a piece of dough in the center of the iron and close the lid.
Remove the waffles from the iron with a spatula (caramelized sugar is really hot!) once the waffle is golden, puffed, and crispy.
Enjoy plain or with cinnamon sugar, chocolate sauce, whipped cream, or your favorite topping!
7.6.6
64
http://bakerbettie.com/real-belgian-liege-waffles/
Tools I used and recommend for this recipe!
[AMAZONPRODUCTS asin="B000P9CWNY,B00006JKZN"]
Disclaimer: This post contains affiliate links.