Sausage Egg & Cheese Casserole- Sunshine Pudding
This is the recipe for my favorite sausage egg and cheese casserole that my family serves every holiday morning. We call this breakfast casserole, Sunshine Pudding! You can put this together the night before and let it sit in the refrigerator and just bake in the morning!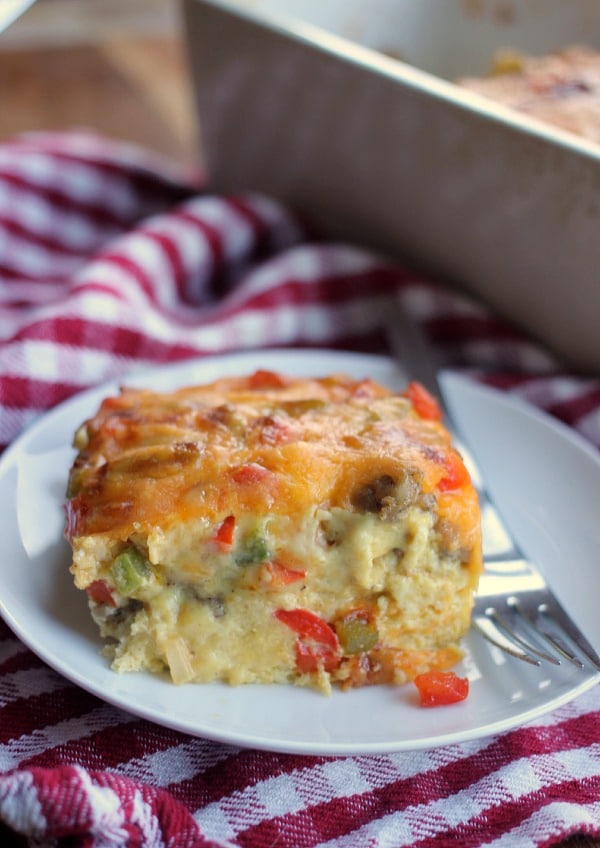 Every major holiday since I can remember has always, and I mean always, included Sunshine Pudding for breakfast. At least that's what we always called it. It's basically an egg, sausage, and cheese casserole. So simple, yet so amazingly delicious.
It is the perfect holiday breakfast because you put it together the night before and it is ready to just pop in the oven in the morning. Perfect for lounging around in your pj's while breakfast is in the oven.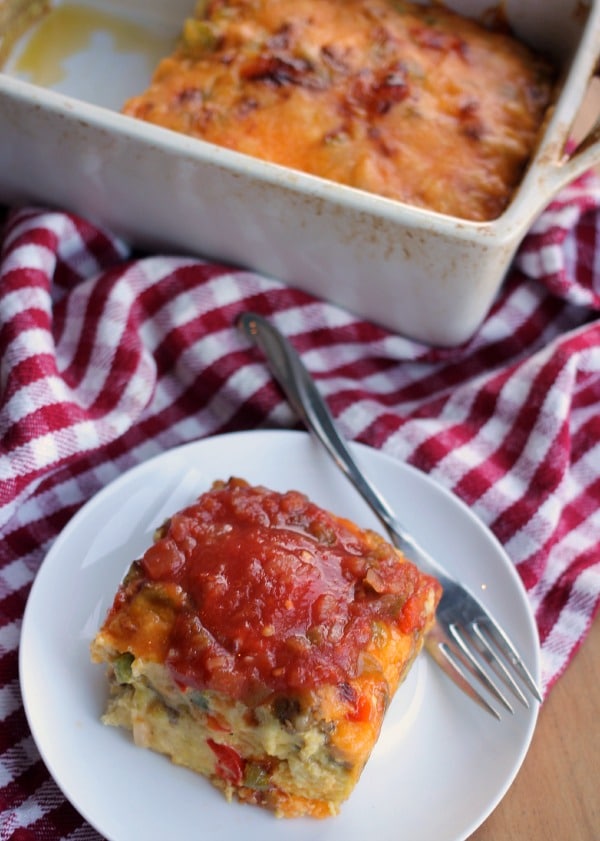 I believe it was my aunt Jo who started the tradition. And it just spread throughout the entire family. You start with a layer of bread in the bottom of the dish. Eggs are then poured on top of the bread and everything is topped with spicy sausage and cheese. I always add in some veggies too, but that is optional.
Let everything soak overnight and pop it in the oven in the morning. Serve with salsa and sour cream or any other condiments you desire. Maybe it is just nostalgia, but Sunshine Pudding screams the holidays are here to me!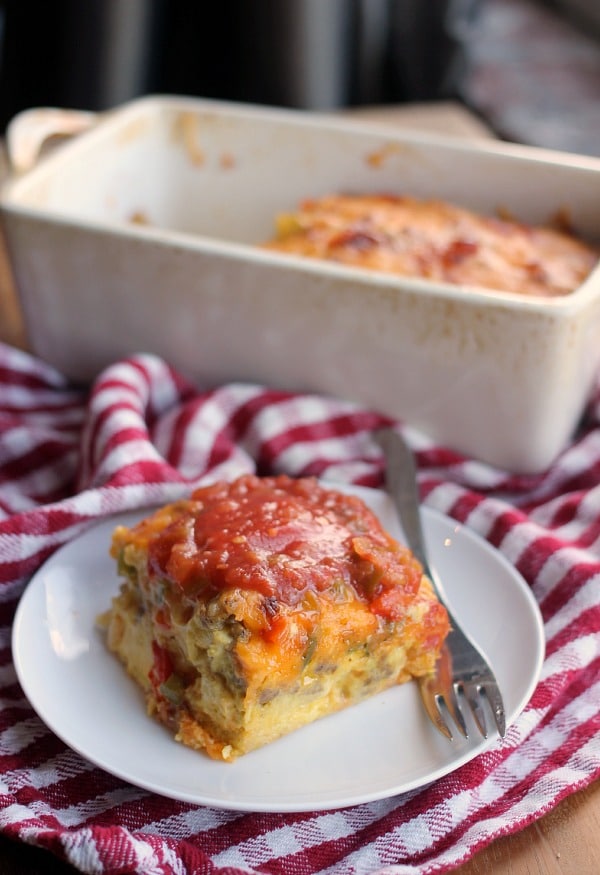 This will be the first Christmas my husband and I are spending away from our families. We are sad to be so far away, but excited to start some of our own traditions together. But we will be incorporating some of our family's traditions too. Sunshine pudding will definitely be had! It just isn't Christmas morning without it! I would love to hear all about your holiday traditions!
One Year Ago: 
Apple Almond Breakfast Cereal with Blackberries
Two Years Ago: 
Dark Chocolate Peppermint Whoopie Pies

Baker Bettie
Sausage Egg Casserole
15 minPrep Time
45 minCook Time
1 hrTotal Time
Ingredients
6-7 slices bread
butter
1 small green bell pepper, small diced
1 small red bell pepper, small diced
1 small onion, small diced
1 lb spicy sausage
12 eggs
1 cup milk
1 tsp kosher salt
1/2 tsp white pepper (black pepper can be substituted)
1 tsp garlic powder
1/2 tsp ground mustard
8 oz shredded sharp cheddar cheese
Instructions
Cut the crusts off the bread and trim the slices to fit evenly in the bottom of a 13X9" baking dish. Butter 1 side of the bread and lay the pieces butter side down in the baking dish covering the entire bottom of the dish.
Saute the red and green bell peppers and onion until just lightly softened. Set aside to cool. Brown the sausage, drain, and set aside to cool.
In a large mixing bowl, whisk together the eggs, milk, salt, pepper, garlic powder, and ground mustard. Pour the egg mixture evenly over the bread in the baking dish. Top with sausage, bell peppers and onions, and finally with cheese. Cover and refrigerate overnight.
Preheat oven to 375F. Bake for 45 minutes or until the middle is set.
7.6.4
80
http://bakerbettie.com/sunshine-pudding-sausage-egg-casserole/