The Science of The Chocolate Chip Cookie
Learn chocolate chip cookie science so you can create your perfect cookie! Learn how to make recipe substitutions to make cookies the way you like them! Chewy or crispy or cakey or soft or thick or thin! Whatever your heart desires!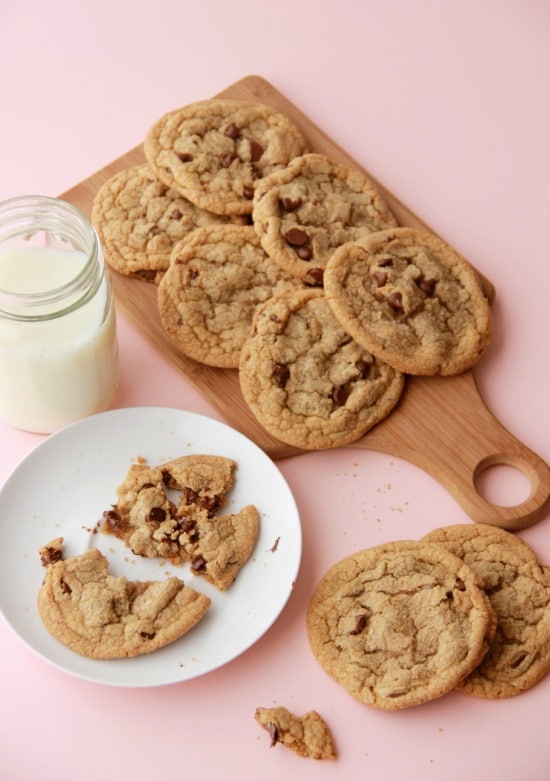 ** ATTENTION! IF YOU ARE LOOKING FOR A RECIPE WITH NO BAKING POWDER OR BAKING SODA CLICK OVER TO THIS POST!**
There is no doubt in my mind that Chocolate Chip Cookies are the ultimate classic baked good and comfort food.  There is just nothing that compares to a warm gooey cookie right out of the oven. And a few years ago I set out on a mission to develop the most perfect chocolate chip cookie recipe ever.
But this led to the question: What is my idea of the perfect chocolate chip cookie?  Well, I am all about contrasts.  So in my mind it needs lots of contrasts of textures and flavors.
And I created that for myself.  A thick, chewy on the inside crunchy on the outside cookie that has hints of caramel and salt with dark chocolate chips and toasted pecans.
I had the brilliant idea for customizable cookies according other people's idea of a perfect chocolate chip cookie.  Thin and crispy with milk chocolate?  Cakey and puffy with peanut butter, cinnamon and dark chocolate? Whatever your little heart desired.  I became obsessed with the science of the cookie.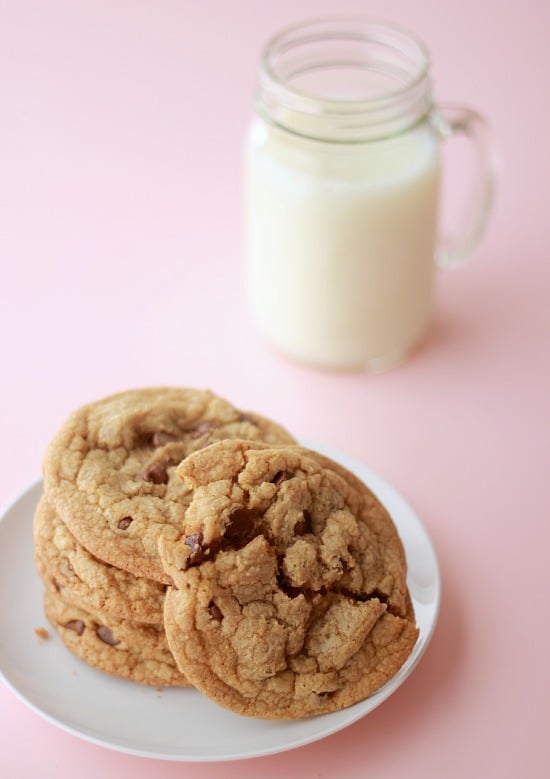 The other day somehow this topic came up with a co-worker of mine.  She told me she had been trying to make really thin, chewy cookies for some time now with little success.
Open the flood gates! My mind started racing trying to remember all of the things I researched about the science of baking and I immediately started using my formula to create this recipe.
For any other geeks out there that are as interested in the science of baking as I am, I introduce to you "Baker Bettie's Rules for Customizable Chocolate Chip Cookies!"
We will start with the standard Nestle Tollhouse Cookie Recipe: 
2 1/4 cups all-purpose flour
1 tsp baking soda
1 tsp salt
1 cup butter, softened
3/4 cup granulated sugar
3/4 cup packed brown sugar
1 tsp vanilla
2 large eggs
2 cups Nestle Toll House Chocolate Chips
You know the drill: Combine dry ingredients.  Cream butter and sugar.  Add the other wet ingredients.  Add the dry ingredients to the wet and the chips.  Bake in a 375 degree oven for 9-11 minutes.
This recipe creates a fairly standard cookie.  Slightly chewy, slightly crunchy. Not too flat, not too caky.  Fairly neutral.  So to create the kind of cookie you are looking for, you can manipulate each component of this recipe.
Flour: If you want a chewier cookie change out the all-purpose flour for bread flour.  Bread flour has more protein and therefore will create more gluten.
If you want a taller cookie with a lot of texture cut back the flour to 2 cups and add 1 cup of oatmeal flour.  You can find this in the grocery store or create your own by grinding old fashioned oats in a blender to a fine crumb.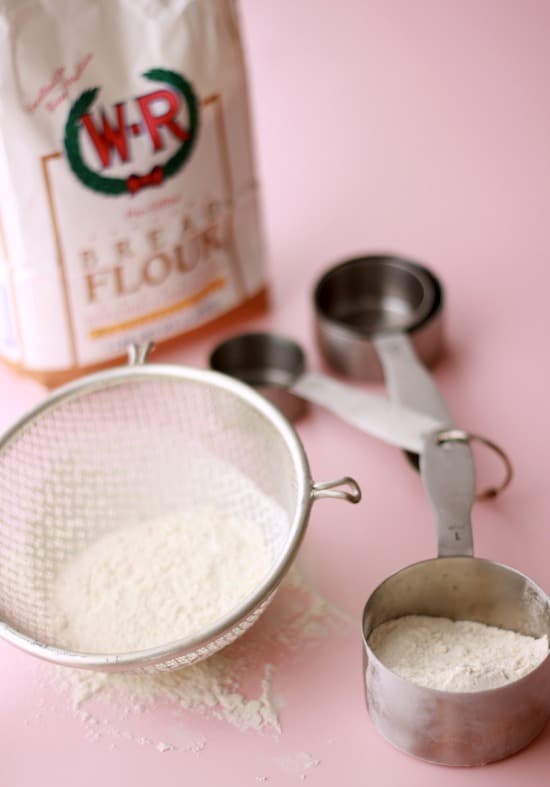 Baking Soda/Powder: There is no baking powder in the original recipe but if you want taller and cakey cookies add 1 tsp.  Keep the 1 tsp baking soda. to learn more details about baking soda and baking powder and how to sub or eliminate them, check out this post. 
Salt: Salt is one of the ingredients that only affects the flavor.  You can reduce or increase this amount according to your own preference for the salty/sweet combo.  But don't eliminate it completely! I usually increase it to 1 1/4 tsp and use kosher salt for a more coarse flake.
Butter: There are several things you do with the butter.  If you are wanting a nice chew to the cookie and have decided to opt for the bread flour, melt the butter.  The water from the melted butter will mix with the flour to create more gluten.  (I learned this from Alton Brown)
 If you like a more complex caramel flavor to your cookie, brown the butter.  If you want a taller, cakey cookie, use shortening instead of butter.  You can use butter flavored shortening if you want to keep the butter taste, but some people prefer the flavor of regular shortening.  Shortening will also make a very soft cookie.
Sugar: The ratios of the white sugar to brown sugar are important to produce the kind of cookie you want.
Higher white sugar to brown sugar ratios will produce a more crisp and crunchy cookie while higher brown sugar to white sugar ratios will produce a more soft and chewy cookie.
Dark brown sugar will up the chewiness even more.  Play around with it to produce the texture you want!
Vanilla: Vanilla only affects the flavor.  Increase the amount up to 1 tbsp if you really like the flavor, or eliminate all together if you want a more buttery flavor.  You can also use mexican vanilla for a more unique flavor.  It almost has hints of cinnamon.
Eggs: Eggs puff baked goods so eliminate an egg if you want a flat cookie and keep both eggs if you want a taller cookie.
Egg whites dry out baked goods so if you like a really crunchy cookie add another egg white.
Alternatively, if you prefer a moist chewy cookie eliminate one egg white or one egg altogether.  You can even add a little bit of milk to add more moisture in place of the egg.
Add Ins: This is where you get to let your creativity go.  When I offered my customized chocolate chip cookies for my business you had these options: milk chocolate chips, dark chocolate chips, bittersweet chips, butterscotch chips, white chocolate chips, peanut butter, cinnamon, oatmeal, cocoa powder (to make the whole cookie chocolate), cayenne, toasted pecans, toasted walnuts, raisins, orange zest, dried cranberries, and toasted coconut.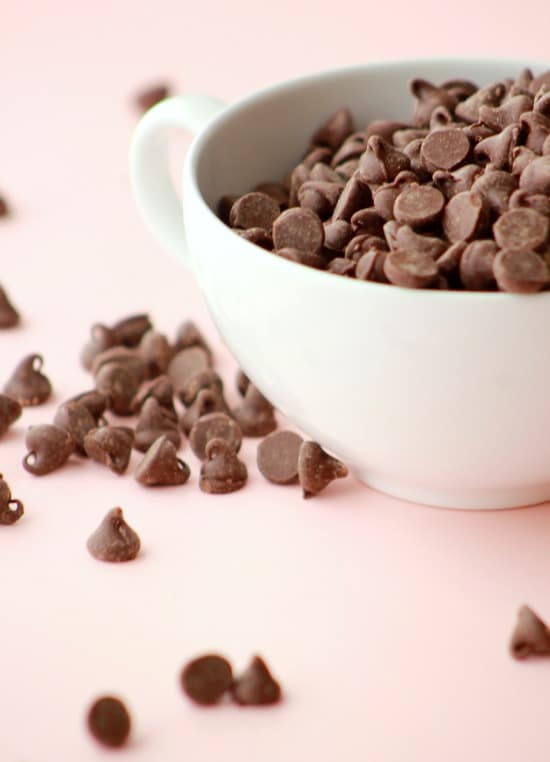 Other Tips: Higher cooking temps (375) will keep a cookie taller while a lower temp (325 or 350) will allow the cookies spread out more.  Chilled dough will also produce a taller cookie.  If you like really soft cookies, spray them with a bit of water before baking.
Things I Never Change: Always bake your cookies in small batches to produce even browning.  (I cook 6 at a time)
Always bake on foil or parchment paper so you can immediately slide the cookies off the baking sheet when they come out of the oven.  This way the hot pan won't continue to cook the cookies.
Remove from the oven just when the edges are brown and not when the entire cookie looks cooked through.  They will be over cooked.
If at all possible, always rest the dough for at least an hour or overnight before baking.  This will give you a more evenly cooked cookie.  And ALWAYS use a scoop!
So using the rules stated above, I came up with a recipe for a thin and chewy cookie.  They were perfect.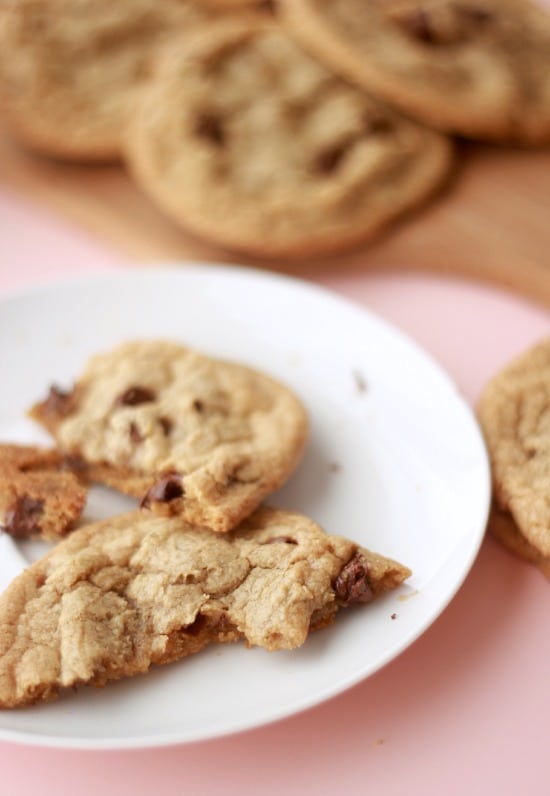 What is your perfect chocolate chip cookie like?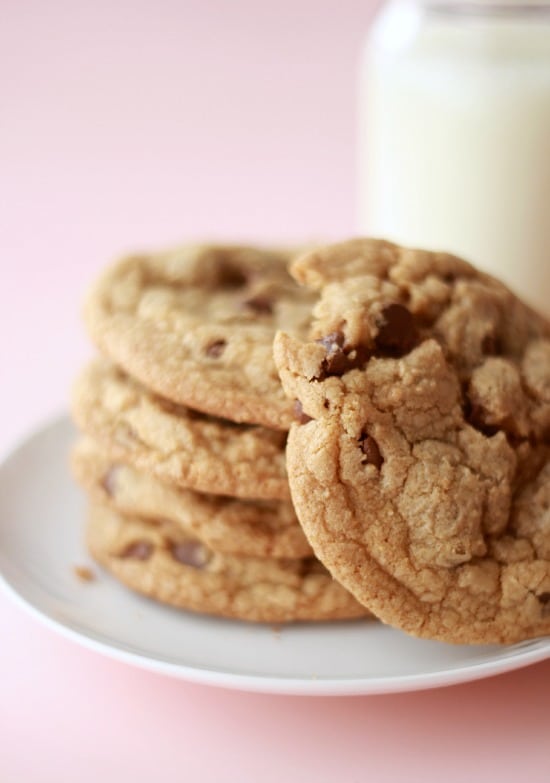 Two years later: Dark Chocolate Custard with Meringue
One year later: White Chocolate and Strawberry Chocolate Fudge Cake
Baker Bettie
Yields 2
Thin and Chewy Chocolate Chip Cookies
1 hr, 10 Prep Time
14 minCook Time
1 hr, 24 Total Time
Ingredients
2 1/4 cups bread flour
1 tsp baking soda
1 1/4 tsp kosher salt
2 sticks unsalted butter, melted
1/4 cup granulated sugar
1 1/2 cup dark brown sugar
1 egg
2 tbsp milk
1 tbsp vanilla
2 cups chocolate chips
Instructions
Melt the butter and allow to cool slightly.
In a small bowl, whisk together the bread flour, baking soda, and salt in a medium bowl.
Add the melted butter to the bowl of a stand mixer fitted with a paddle attachment. Beat the butter, granulated sugar, and dark brown sugar until combined.
Add the egg, milk and the vanilla and beat on medium slow speed until incorporated.
With the mixer on low speed, gradually add the dry ingredients into the wet ingredients until just incorporated.Scrape down the bowl as needed. Add in the chocolate chips and mix until incorporated.
Allow the dough to rest for 1 hour in the refrigerator.
Preheat the oven to 350 degrees. Line baking sheets with foil or parchment paper.
Using a large scoop, drop 6 dough balls onto each cookie sheet.
Bake for 11-14 minutes at 350F, just until the edges are lightly browned.
Slide the cookies on the foil or parchment off the cookies sheet as soon as they come out of the oven.

Note: The cookies will be just slightly crunchy on the edges when cooled. If you want a completely chewy cookie and can resist eating them right away, store in an airtight container overnight and the cookies will be very chewy and soft in the morning.
7.6.4
14
http://bakerbettie.com/the-science-of-the-chocolate-chip-cookie/
Tools I use and recommend for cookie baking!
[AMAZONPRODUCTS asin="B000G0KJG4,B00B53D5H6,B00HG5OXIW"]
Disclaimer: This post contains affiliate links.