Butternut Squash Praline Casserole
Butternut Squash Praline Casserole is a new take on a Thanksgiving classic! Roasted butternut squash is topped with a crunchy praline topping and toasted marshmallows! It is a new favorite in my household and will get rave reviews!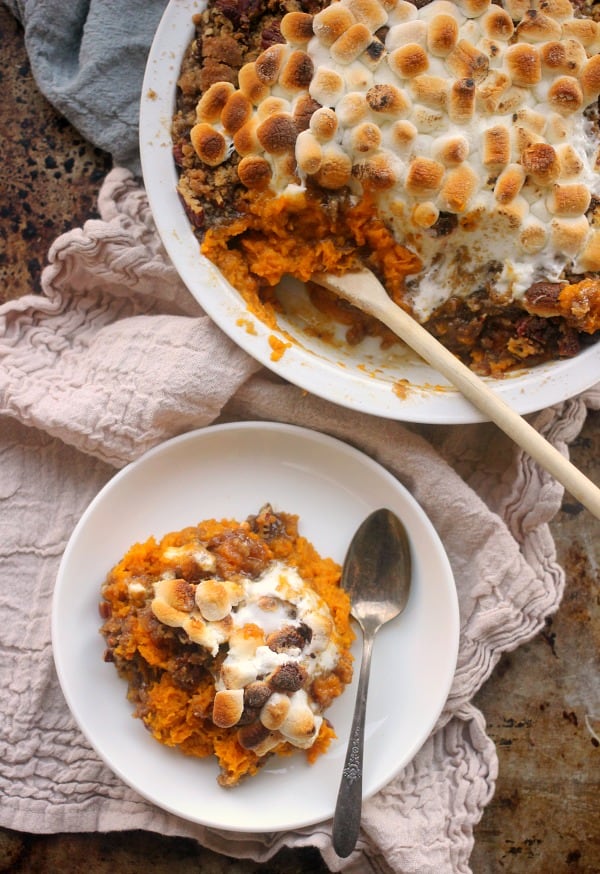 Happy Thanksgiving week everyone! I am currently in Florida for work doing the private chef thing, so Mr. BB and I actually celebrated our Thanksgiving for two last week. It definitely doesn't feel quite the same to do it early, but I made sure to make way to much of everything so I could extend my feast with leftovers throughout the week!
I had every intention of sharing this post with you last week. I tried really hard to get it together, but it just didn't happen. But if you are still looking for a crowd stopping Thanksgiving side dish, THIS is it! I'm telling you.
It is very similar to the standard sweet potato casserole that we all know and love, but I think you won't want to go back after you try it this way.
The base starts with roasted butternut squash. I love the earthiness the squash brings to the equation. It adds a whole new depth of flavor to the familiar comforts of this Thanksgiving classic.
Then you pile on a load of praline topping. How can you go wrong with butter, brown sugar, and pecans. You can't. You just can't.
You could definitely just leave it at that. The roasted butternut squash baked with the praline topping is killer. But I know so many gotta have those tiny marshmallows thrown in too and who am I to disappoint? I like to mound them all on top so they get a nice crust on them but the middles stay gooey.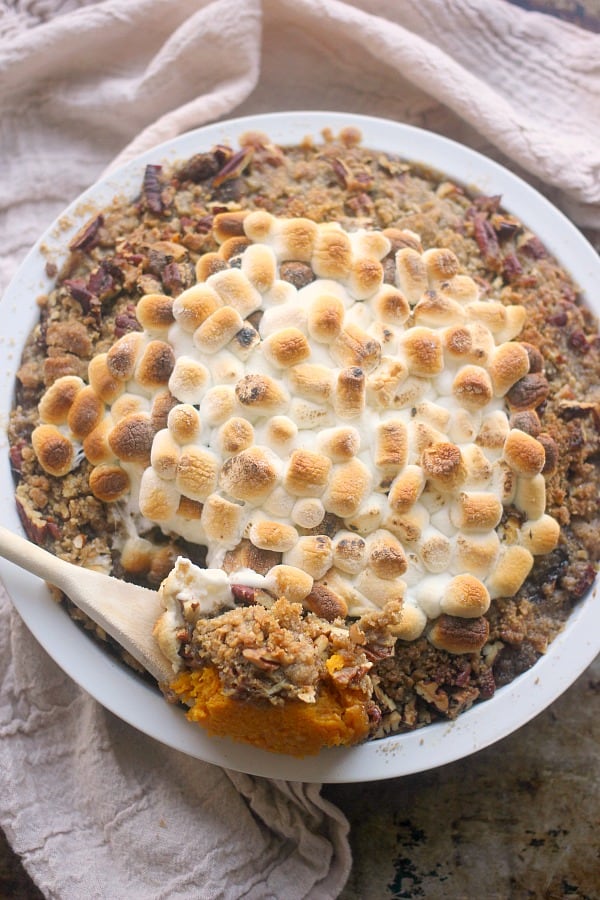 You guys, I could not stop eating this! I found myself craving it over and over again all week long. My husband isn't a fan of anything involving squash so I had this baby all to myself and I did some major damage on it! I truly think your family won't be disappointed!
The best part of this butternut squash casserole is that you can definitely make the base and the topping before "the big eating day." Then just pop it in the oven right before serving! I love prep ahead things (ahem those amazing rolls from last year), so the big day doesn't feel stressful!
I hope I've convinced you to give this baby a try! Even if it isn't for Thanksgiving! Add it to your must make list for down the road! It feeds a crowd! So you can definitely halve the recipe for a normal eating day. Or don't and have lots of leftovers! You won't be sorry!
Happy Thanksgiving to all of you! I am so thankful for each person who comes to this space, tries these recipes, and shares them with those they love! It makes me infinitely happy! Much love to you all! <3
Butternut Squash Praline Casserole
Ingredients
1 medium butternut squash (you will need about 3 cups)
1/2 cup brown sugar, lightly packed
2 eggs
1 TBSP vanilla extract
1/2 cup heavy cream
for the praline topping
1 cup brown sugar
1/2 cup all-purpose flour
1 stick (4 oz, 1/2 cup) cold butter, cut into small pieces
1 cup chopped pecans
about 1 cup mini marshmallows (optional)
Instructions
Preheat oven to 400F.
Using a sharp knife, cut the squash in half lengthwise. Scoop out the seeds and discard. Place the squash cut side down on a sheet pan lined with parchment paper. Roast for about 1 hour or until the squash is very tender.
Reduce the oven heat to 350F.
Measure out about 3 cups of the roasted squash. If you have a little less or a little more that is okay. (If you have a lot extra, save it for other uses. It is really good in smoothies or in oatmeal!)
In a large bowl combine the 3 cups of squash with 1/2 cup brown sugar, eggs, vanilla extract, and heavy cream. Transfer to a large pie plate or to a 9X13 baking dish.
To prepare the praline topping: Combine the 1 cup of brown sugar with the ap flour in a medium bowl. Add the pieces of butter and use a pastry cutter or a fork to cut the butter throughout the flour and sugar until it is the texture of peas. Stir in the chopped pecans.
Evenly distribute the praline topping over the butternut squash mixture.
Bake at 250F for 20 minutes. If using, add the mini marshmallows to the top of the casserole and bake for an additional 10 minutes, or until the marshmallows or toasted. If you are not using the marshmallows, bake the casserole for a total of 30 minutes.
7.6.4
376
http://bakerbettie.com/butternut-squash-praline-casserole/