This cinnamon roll wreath is a fairly simple cinnamon roll recipe that doesn't take a lot of rise time and is formed into a wreath instead of individual rolls. Slathered with cream cheese icing and Christmas morning never tasted so good or looked so festive!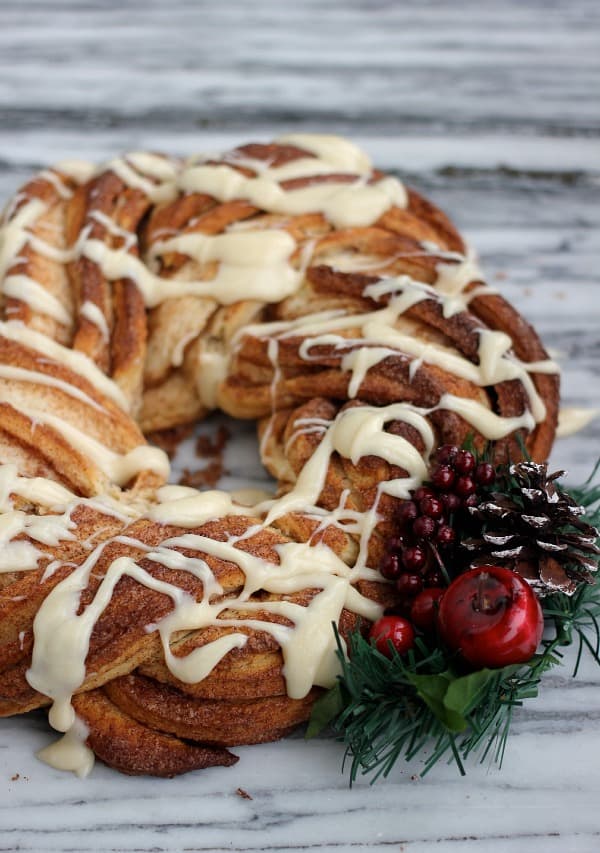 I have a confession. I am a closeted obnoxious holiday person. I love that Christmas music starts playing on the radio the day after Halloween. I will fully belt Mariah Carey's "All I Want For Christmas is You" if nobody is around. I can watch the same Christmas movies over and over again every year and never get sick of them. And I switch from my regular Americano to drink Eggnog lattes the second they are available.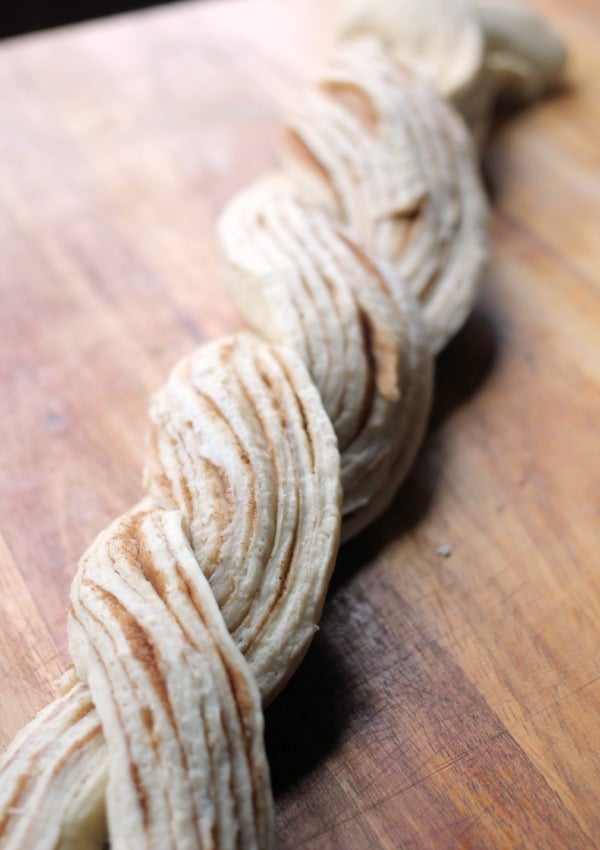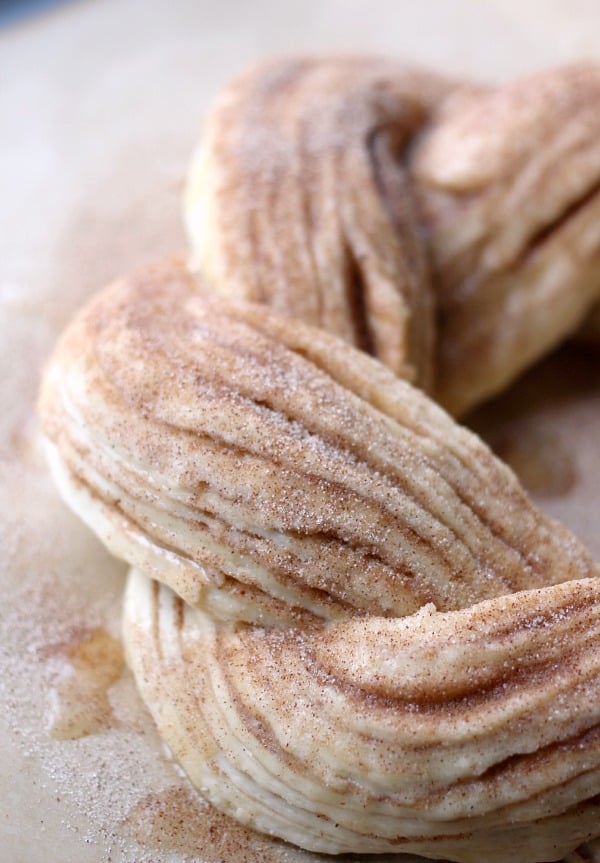 I think it is pretty hard not to get into the spirit if you have good memories of the holidays from your childhood. And I definitely do. My mom really has a knack for decorating, though I'm not sure she fully knows that about herself. Our house growing up was one of the prettiest in our neighborhoods during the holidays. The outside and inside were decorated so beautifully and we always had fun Christmas music playing. I remember when we'd finally break out all of our family favorite Christmas CD's and they would play non-stop. The staples of our collection were: Mariah Carey (of course), Harry Connick Jr., Celine Dion, Mannheim Steamroller, and Dolly Parton and Kenny Rogers, which was our absolute favorite. My sister found this music video of one of the songs from Dolly and Kenny's Christmas CD and it is pretty amazing. You NEED to watch it. I have so many good memories singing those songs and getting ready for our family holiday party every year.
As much as I love old traditions and try to keep them going, I also embrace starting new traditions. It's hard to know what traditions my husband and I will keep for years to come. That's the thing about new traditions. They aren't planned. They just stick and keep on going without realizing it at first.
Pioneer Woman has a tradition of giving cinnamon rolls to family friends at Christmas. I've been eyeing her recipe for a while now and when Joy the Baker posted a variation of it this week I had to go ahead and do my own version. I was so excited for how pretty it turned out! Beware, I couldn't quit taking pictures of it.
Get ready to scroll!
Happy holidays my loves! I hope yours is filled with too much food, lots of naps, and crazy amounts of love and laughter!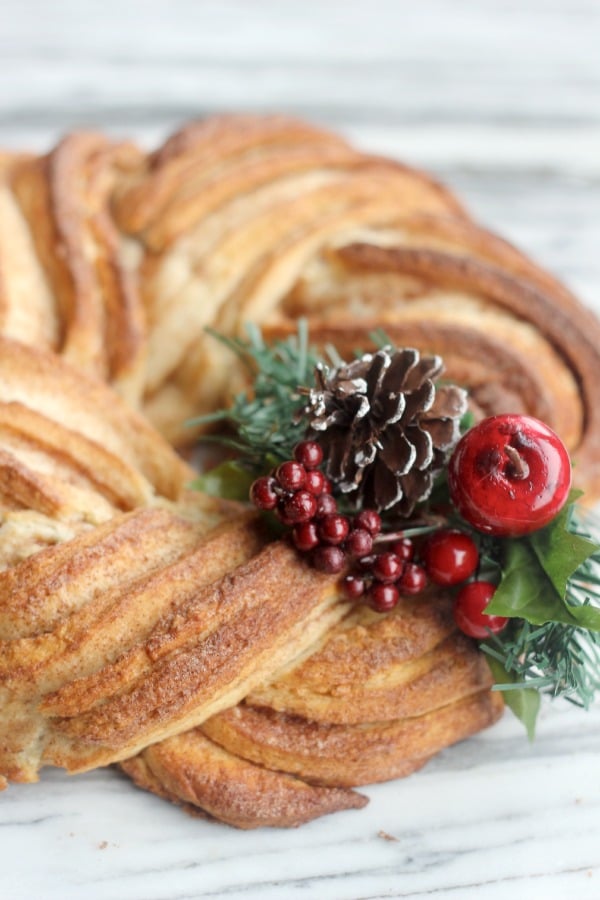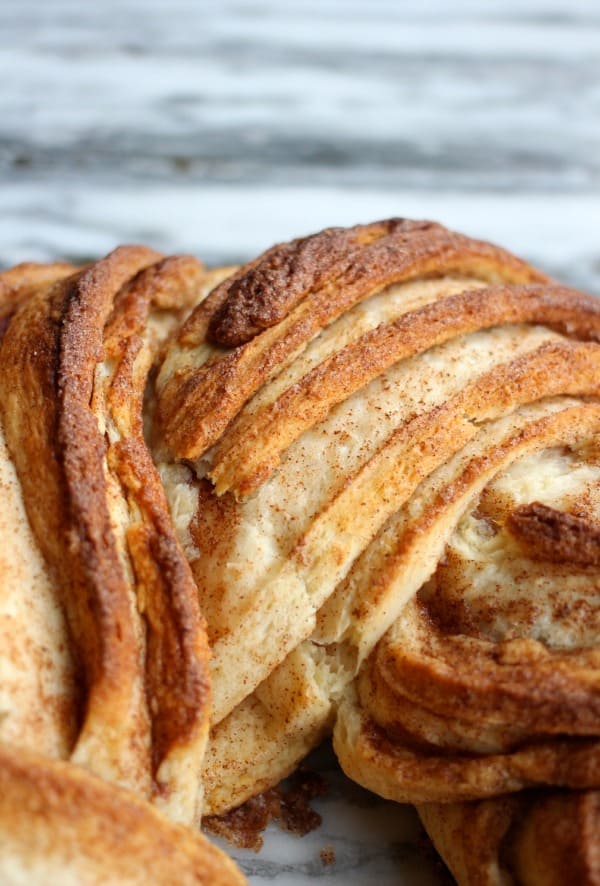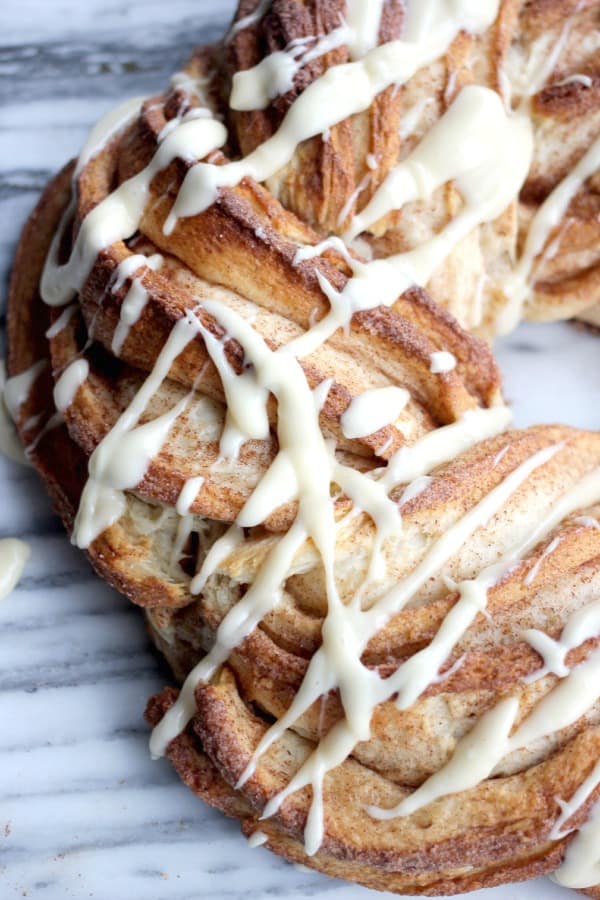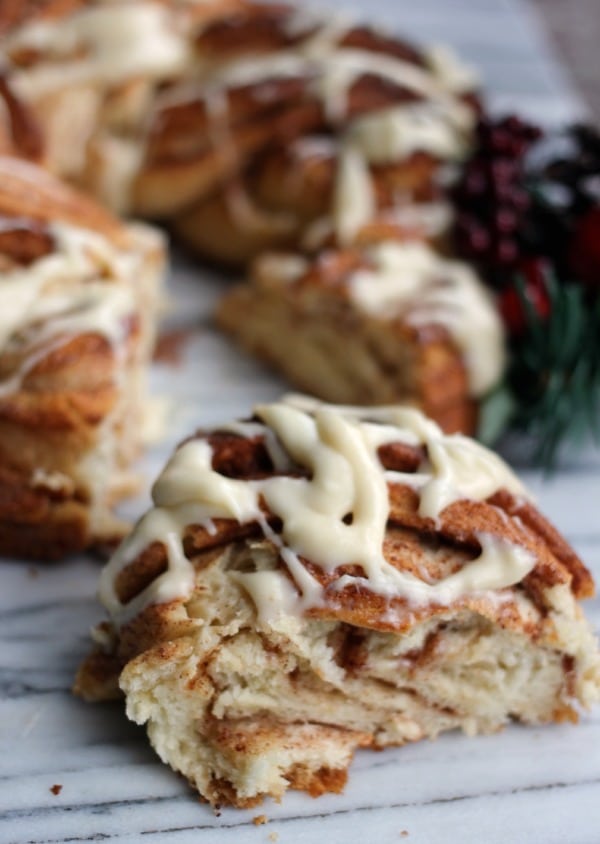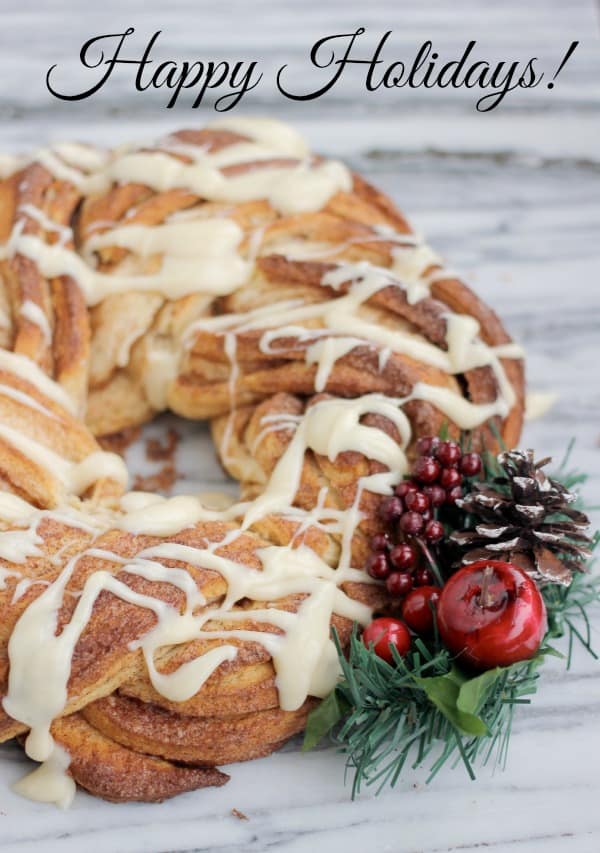 Cinnamon Roll Wreath
Serves:
1 Wreath, 12 Servings
Ingredients
2 cups milk
½ vegetable oil
½ cup sugar
1 package active dry yeast
4½ cups ap flour, divided
½ tsp baking powder
½ tsp baking soda
½ TBSP kosher salt
½ stick butter, melted
1 cup sugar
lots of cinnamon
for the cream cheese icing
4oz cream cheese
2 TBSP butter
2 cups confectioners sugar
2-4 TBSP milk
Instructions
for the rolls
In a large pot over medium heat, heat the milk, vegetable oil and sugar just until it starts to simmer. Stir frequently to avoid scorching. Set aside to cool until warm.
Add the yeast to the mixture and let sit for 1 minute.
Add 4 cups of the flour into the mixture and stir until combined. Cover with a clean kitchen town and set aside to rise for about 1 hour.
Add the baking powder, baking soda, salt, and the remaining ½ cup flour and stir to incorporate.
Preheat the oven to 375°F.
Roll the dough out in a clean, lightly floured work surface. Work the dough into a rectangle and roll out very thin.
Brush melted butter over the dough (make sure to keep a little bit to brush the wreath after forming.) Sprinkle sugar and then cinnamon evenly over the dough.
Roll the dough tightly into a log. Use your fingers to pinch the dough shut.
Cut the roll in half lengthwise from end to end. On a baking sheet lined with parchment paper, twist the two halves together with the layer side out. Shape into a circle and pinch the ends together. Brush with more butter and sprinkle with more sugar and cinnamon.
Bake in a 375F oven for 30 minutes, or until lightly browned.
for the icing
In a small saucepan, combine cream cheese, butter, and confectioners sugar over medium-low heat. Once melted, add milk 1 TBSP at a time until your desired consistency.