Easy, Light and Airy, No-Bake Cheesecake
Easy no-bake cheesecake recipe that is incredibly light and airy and so much easier to make than traditional cheesecake. Heavy whipping cream is whipped into cream cheese to create a silky smooth and light filling.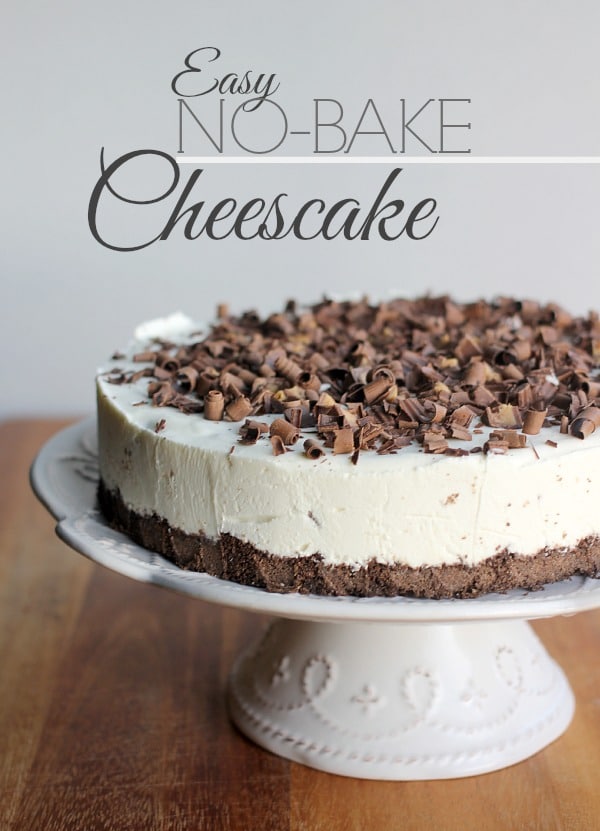 A few days ago it happened again. It had been a few month, so I knew it was coming soon. The inevitable request from Mr. Baker Bettie for a cheesecake. Not only his favorite dessert, but also his favorite "meal" is his words.
But I have to admit, I kind of dread making cheesecakes. They are just a pain in the you know what to make. All of the bringing of things to room temp, and cooking in a water bath for a ridiculously long time, then praying it doesn't crack, then waiting for it to cool then chill. It's just such a process.
So when I got the request for a cheesecake this time I posed a compromise. A no-bake cheesecake. The hubs immediately agreed and stated he didn't think he had ever had one before. This recipe took me about 15 minutes to whip together and then we just had to wait for it to chill and set.
So much more painless than a traditional cheesecake. And we were a little antsy about it so you may be able to tell that we didn't wait for it to completely set before cutting into it.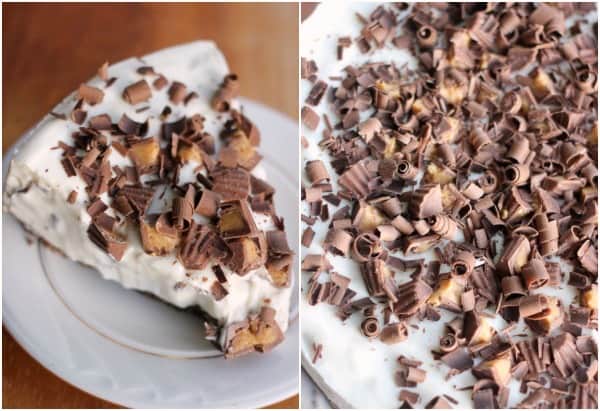 Mr. BB said he thinks he may like this version better than the traditional cheesecake. It is just so much lighter and less dense than a baked cheesecake. It is almost the texture of whipped cream but with a cheesecake flavor.
We folded in chopped up peanut butter cups and topped with chocolate shavings. But you could use cherry topping or any other fruit topping, or serve it plain.
The other awesome part about a no-bake cheesecake is a springform pan is not required because we aren't baking it. I used mine, because I have one and it looks nice once its unmolded. But a pie plate would work well for this too!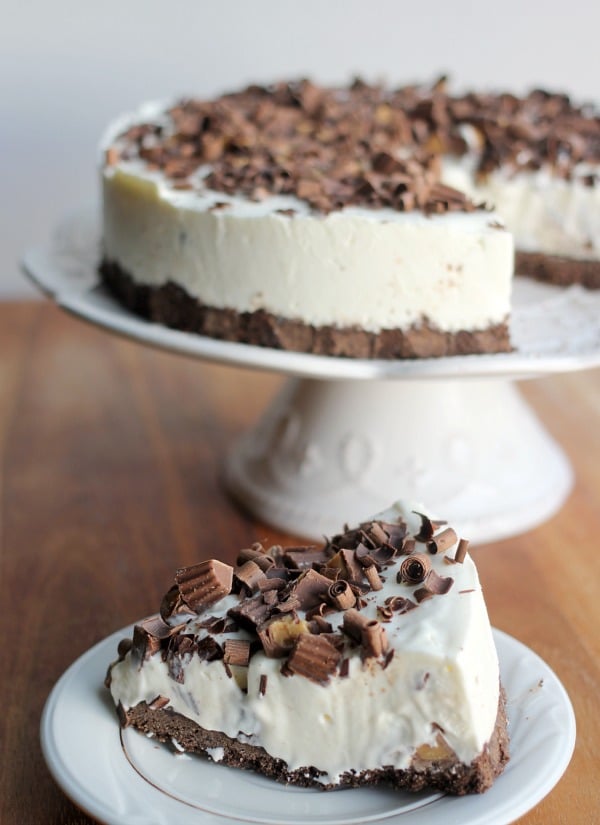 Baker Bettie
Yields 1-
Easy No-Bake Cheesecake
2 hr, 30 Prep Time
2 hr, 30 Total Time
Ingredients
for the graham cracker crust
1 1/2 cups graham cracker crumbs (we used chocolate graham crackers)
1/3 cup brown sugar, lightly packed
1/3 cup melted butter
large pinch salt
for the filling
2 8oz packages cream cheese, room-temperature
1 TBSP lemon juice
1 pint heavy cream, very cold
1/2 cup granulated sugar
2 cups chopped peanut butter cups (optional)
chocolate shavings (optional)
Instructions
Place the graham cracker crumbs, brown sugar, melted butter, and pinch of salt in a bowl and stir together until combined. Press the mixture firmly into the bottom of a spring form pan or a large pie plate. Chill until ready to use.
Place the cream cheese and lemon juice in a large mixing bowl and mix with a hand mixer until smooth and combined. Add the heavy cream and beat on high until thick (about 2 minutes). Add the sugar and continue whipping on high until still (about 2 more minutes). Fold in peanut butter cups if using or any other add-ins.
Pour the filling into the spring-form pan or pie plate and smooth out with a rubber spatula. Top with more peanut butter cups and chocolate shavings if using.
Chill for at least 4 hours and up to overnight before unmolding and slicing.
Notes
7.6.4
109
http://bakerbettie.com/easy-no-bake-cheesecake/
Products I used for this recipe…
Disclaimer: Please note that the links below are affiliate links and I will earn a commission if you purchase through those links
[AMAZONPRODUCTS asin="B009VUHLHA"][AMAZONPRODUCTS asin="B0000VLZKS"][AMAZONPRODUCTS asin="B0001FU9T6″]