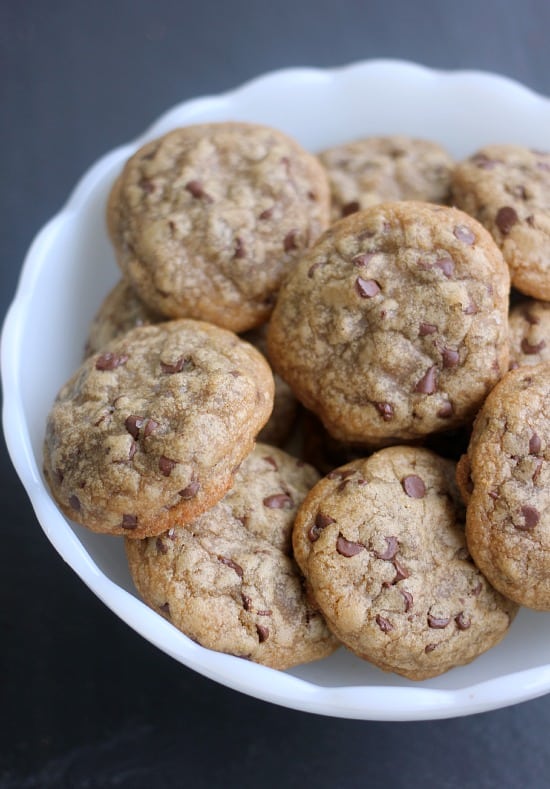 Cookies equal comfort. Especially warm right out of the oven eating them straight off the cookie sheet. It just feels like warmth, love, and home.
I don't think there is any secret by now that I have a certain obsession affection for cookies. Especially the kind mentioned above. I have this memory of visiting my aunt in Alabama when I was very young. I needed to take a bath and I was protesting. (I apparently hated being clean.) My aunt told me "if you take a bath I will have warm chocolate chip cookies for you when you get out…" Sold. That's all it took. Bribery via warm chocolate chip cookies and I'm diving into the tub.
I think sometimes people who don't bake very often do not realize that cookies can really be a simple thing to make. You really only need 5 ingredients to make fantastic chocolate chip cookies and I bet most of us already have them in our pantry!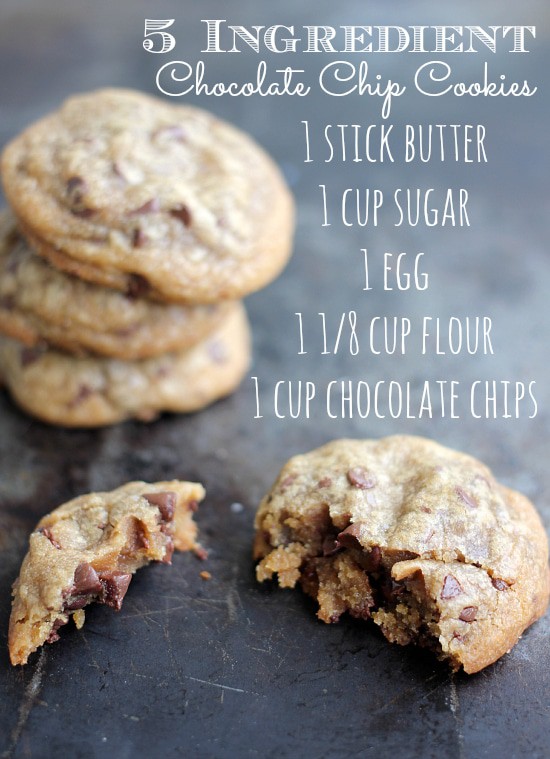 #1: Butter: This can be salted or unsalted. Margarine or shortening. Filled with dairy or the vegan variety. Heck it can even be lard! But you need some type of solid fat. I prefer butter. It is what I usually have on hand. But the other things will work too.
#2: Sugar: Use granulated, light brown or dark brown or a mixture. White sugar is going to give your crispier cookies, brown sugar is going to give you chewier cookies.
#3: Egg: A large egg is preferable and you could definitely substitute with Ener-G  egg replacer for a vegan option.
#4: Flour: All-purpose, self-rising, or bread. All of them work!
#5: Chocolate!: Chips or chunks. Milk, bittersweet, or Dark. I guess you could even do white, but don't offer me any (who am I kidding, give me one!)
That's it! 5 ingredients: Butter, sugar, egg, flour, chocolate. You don't NEED vanilla, baking soda, baking powder, or salt. If you have the time and have all of those things on hand, then great. But this is that recipe for a quick, throw it together, I need cookies in my mouth in less than 15 minutes, kind of recipe. Go make them. It is time.
Note: The point of this recipe is that it is very stripped down and simplified. They are simple and perfect in that way. If you have the time and want to try more over the top cookies, check out this post for my Best Chocolate Chip Cookies.
5 Ingredient Perfect Chocolate Chip Cookies
Ingredients
1 stick (1/2 cup) softened butter (salted, unsalted, vegan butter, margarine, shortening, lard)
1 cup sugar (granulated, light brown, or dark brown) (reduce if you like a less sweet cookie)
1 egg (or Ener-G egg replacer)
1 cup plus 2 TBSP flour (all-purpose, self rising, or bread)
1 cup chocolate chips (any kind your prefer or have on hand)
Instructions
Preheat oven to 350ºF.
Mix the butter and sugar together until completely combined.
Add the egg and mix until incorporated.
Stir in the flour then the chocolate chips until combined.
Bake at 350ºF until just lightly browned on the edges and middle still looks undercooked. About 7-9 minutes.

Makes about 2 dozen medium sized cookies
http://bakerbettie.com/perfect-chocolate-chip-cookies-with-only-5-ingredients/