Profiteroles with Coffee Ice Cream and Chocolate Ganache
Learn how to make profiteroles filled with coffee ice cream and topped with chocolate ganache. Use the basic pate a choux recipe to make these simple shells and fill with your favorite ice cream!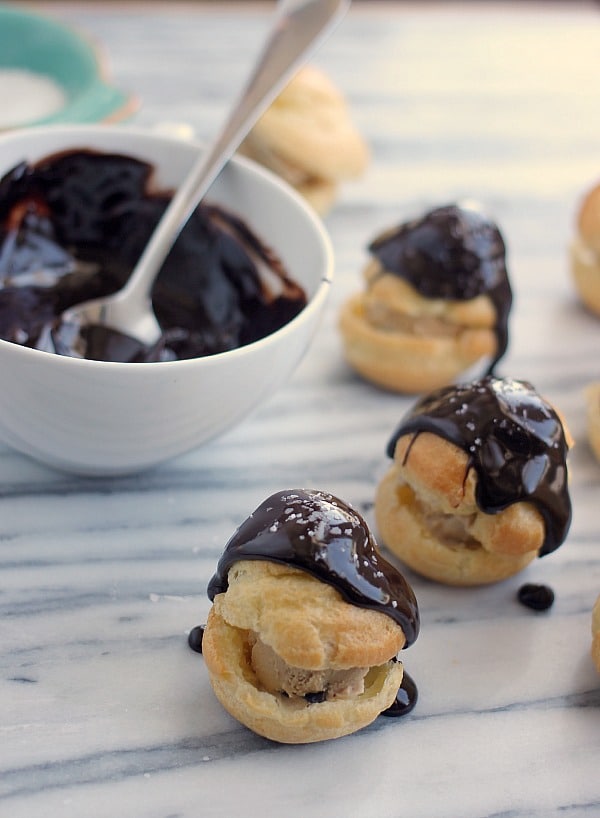 Remember when I did that whole Pate a Choux Series on the blog? And I taught you how to make the basic pastry and then we used it to make Beignets, and Cheese Puffs, and Classic Cream Puffs,  and Parisienne Gnocchi with (bacon and brussels sprouts!!!), and Eclairs with Espresso Glaze?!
Well for some reason I forgot to share with you these profiteroles made with the same choux pastry. Probably because it was the dead of winter when I made them and who wants to eat ice cream when it's 9 degrees out?
Ok, who am I kidding, I do. But I thought maybe they would be more appropriate now that we are getting close to the 90 degree days!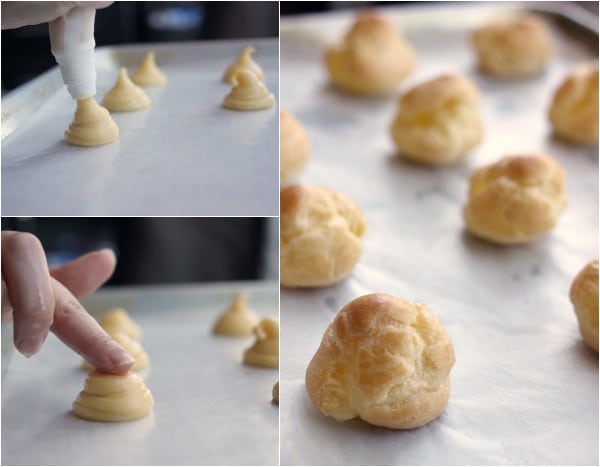 To make the profiteroles, we start with the basic pate a choux. Water, butter, salt and sugar are heated until boiling and then the flour is stirred in all at once. Eggs are then mixed in and the choux is then piped onto parchment paper.
If you remember from my cream puffs post, the oven temp is turned up right when the shells go into the oven. The actively heating oven will cause rapid evaporation of the moisture in the pastry. This will cause the shells to rise and become hollow in the middle.
For a complete tutorial on how to make the basic pate a choux, check out this post.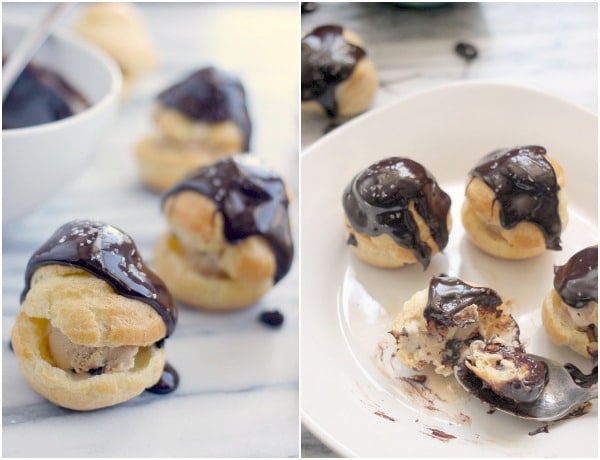 I filled these babies with coffee ice cream, drizzled on rich chocolate ganache, and sprinkled a tiny bit of sea salt. They were totally rich and decadent and definitely in need of a spoon for proper eating.
But don't be shy. You could definitely get down and dirty with these and forget that "proper eating" mumbo jumbo. Or forget the coffee ice cream and ganache and fill them with strawberry ice cream and top with vanilla creme anglaise.
OR fill with coconut ice cream and top with a rum caramel sauce… Oh geez. My mind is going wild with combos here! There may be more profiteroles in my future… Make the shells, fill them, top them, then share with me your combination!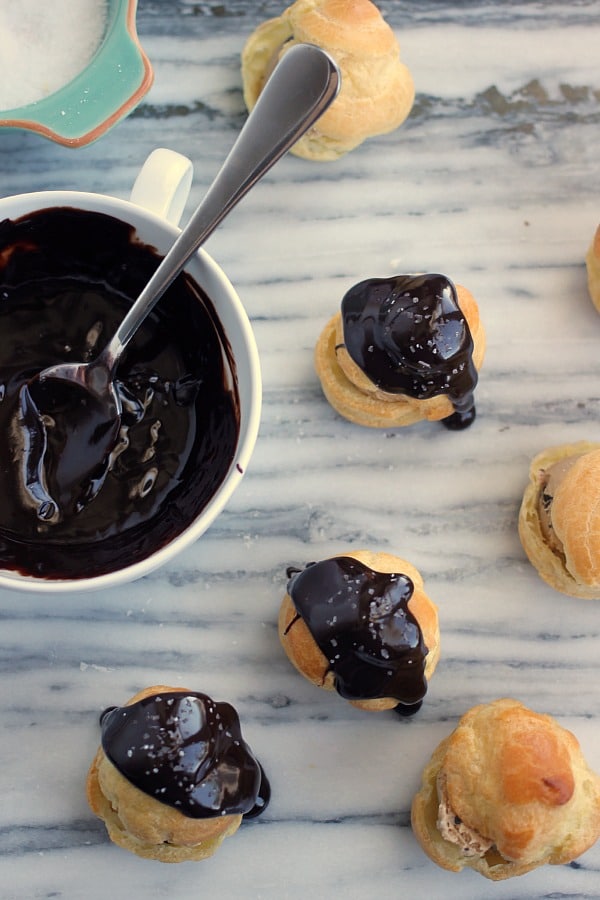 Baker Bettie
Yields 2
Profiteroles with Coffee Ice Cream
20 minPrep Time
20 minCook Time
40 minTotal Time
Ingredients
1 cup water (8 fl oz, 240 ml)
1 stick unsalted butter, cut into pieces (1/2 cup, 4 oz, 113 grams)
large pinch kosher salt
2 TBSP granulated sugar (0.8 oz, 24 grams)
1 cup all-purpose flour (4.5 oz, 127 grams)
4 large eggs
Instructions
Place water, butter, sugar, and salt in a sauce pot over medium high heat. Stir until butter is melted and everything comes to a boil.
Reduce heat to medium. Add flour into the mixture all at once while stirring quickly. Continue to stir and cook off the moisture in the dough until it pulls away from the sides and starts to form into a ball. This should take about a minute.
Place dough into the bowl of a stand mixer fitted with a paddle attachment or a large bowl if using a hand mixer. Allow to cool for about 5 minutes.
With the mixer on medium-low speed, add eggs in one at a time. Do not add another egg until the one before has been completely absorbed into the batter. The batter will look smooth and glossy when ready. (Alternatively, you can mix in the eggs by hand. This just takes a bit longer. Mix each egg until completely absorbed before adding the next).
Place batter in a pastry bag fitted with a large round tip or a zip top bag with the tip cut off.
Preheat oven to 425F. Line baking sheets with parchment or silpat.
Hold the pastry bag over the baking sheet and squeeze over one area until you have about a 1 inch round. Release the pressure from the bag and pull up to release the dough mound. You will have a little peak on the each that can be smoothed out with a wet fingertip.
Place the baking sheet in the oven and turn to heat up to 450F. Bake for 8 minutes (without opening the oven) then drop the heat down to 350F and bake for 9-11 more minutes until the shells are crispy on the outside and set.
Allow to shells to cool completely before cutting in half. Fill with ice cream and top with ganache.
Notes
For the Chocolate Ganache: Heat 1/2 cup of heavy cream just below boiling and pour it over 4.5 oz of finely chopped bittersweet chocolate and whisk until smooth.
7.6.6
115
http://bakerbettie.com/profiteroles-coffee-ice-cream/