No-Bake Pumpkin Cheesecake Filling
Why bake a cheesecake when you can make a no-bake pumpkin cheesecake?! This pumpkin cheesecake is light and airy and so much quicker to make than a baked cheesecake!  Use the filling for a full cheesecake or fill individual muffin cups for mini cheesecakes. You could also use it to make a pumpkin cheesecake parfait!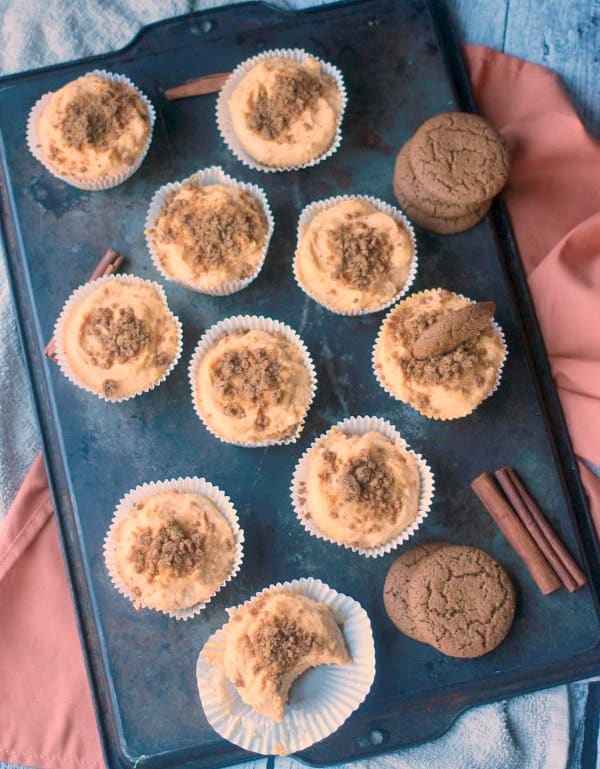 I distinctly remember the first time I ever baked a cheesecake. It was early on in my baking days, probably about 9 years ago. I didn't yet know much about the intricacies of baking, but I could read and therefore I could follow a recipe.
Well, I thought I could follow a recipe. I had yet to learn the importance of reading a recipe in its entirety long before the baking process starts. If I had known that then, I probably would have started the process of baking that cheesecake about 24 hours before I actually did start. I would have realized that baking a cheesecake three hours before the party you want to take it to is insane.
But like most things in life, learning the hard way is usually the best way to learn. A cheesecake made with cold ingredients that hasn't had time to set after baking is lumpy, runny, and embarrassing but still, however, delicious. I remember thinking to myself that I would probably never bake another cheesecake because of all the time and steps involved to do it properly.
Then I gained a whole lot of baking passion and knowledge and one cheesecake obsessed husband and I have baked more than my fair share of proper cheesecakes over the years. But I have to admit, I still sometimes dread the thought of making one.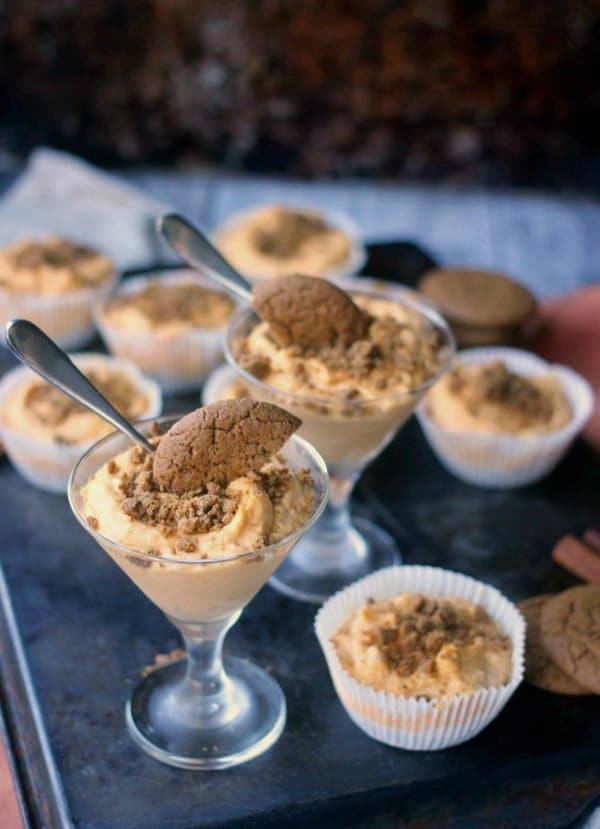 Because of that cheesecake obsessed husband I mentioned, I have become pretty great at whipping together no-bake cheesecakes. He likes them just as much as the traditional baked ones. As long as cream cheese is involved in large quantities, he's sold. I could probably just hand him a block of cream cheese and move on but that would be weird…
I almost kind of prefer a no-bake cheesecake. Mostly because it's lighter and I can eat more of it (real talk). But the process of a no-bake cheesecake is just so much less tortuous. I'll take 15 minutes to mix and 3 hours to set any day over the 12 hours combined it takes to mix, cook, cool, and chill a traditional cheesecake…It is self inflicted torture, really.
This filling could be used in a variety of ways. I made individual cheesecakes in muffin liners using ginger snap cookies as the crusts. You could also use a vanilla wafer or mini vanilla wafers fit perfectly into the mini muffin cups. I also used some of it to make little cheesecake cups with ginger snaps crumbled on top.
If you want a whole cheesecake, this filling will be enough to fill a 9″ round pan. If you have a spring form pan, it will hold it's shape once completely chilled and set. I actually really like this filling frozen too. I froze the mini cheesecakes that didn't get eaten the day of. Just let them sit out for about 5 minutes and then they are super creamy, almost cheesecake ice cream like, and actually much less messy to eat!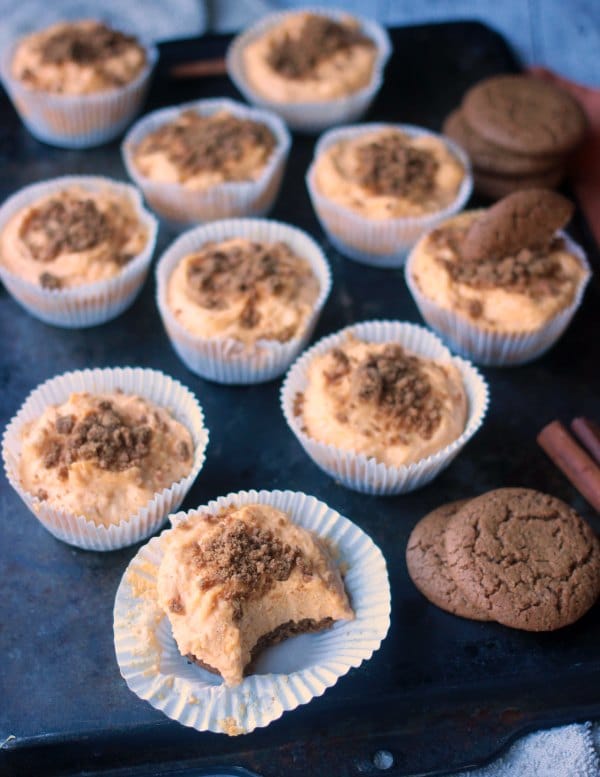 One Year Ago: Baked Sweet Potato Pecan Crisps
Two Years Ago: Chicken Pot Pie Casserole

Baker Bettie
Yields 16
No-Bake Pumpkin Cheesecake Filling
3 hr, 10 Prep Time
3 hr, 10 Total Time
Ingredients
8 oz package cream cheese, room temp
1 cup canned pumpkin (not pumpkin pie filling)
1/2 tsp pumpkin pie spice
1/2 cup granulated sugar
1 cup heavy cream
ginger snap cookies, vanilla wafers, or graham cracker crust
Instructions
Place the cream cheese, pumpkin, and pumpkin pie spice in a large mixing bowl and mix with a hand mixer until smooth and combined.
Add the heavy cream and beat on high until thick (about 2 minutes). Add the sugar and continue whipping on high until still (about 2 more minutes).
Pour the filling into prepared muffin cups, individual serving cups, or a spring-form pan or pie plate and smooth out with a rubber spatula.
Chill for at least 3 hours for individual servings and at least 4 hours for a whole cheesecake and up to overnight.
7.6.4
138
http://bakerbettie.com/bake-pumpkin-cheesecake-filling/
 OTHER RECIPES YOU MIGHT ENJOY… 
Easy, Light and Airy, Peanut Butter Cup No- Bake Cheesecake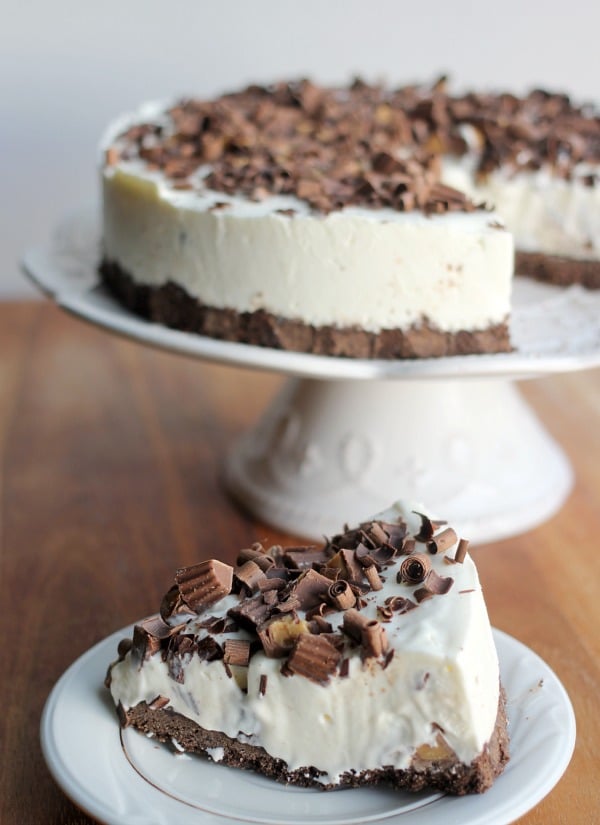 No-Bake Mini Cherry Cheesecakes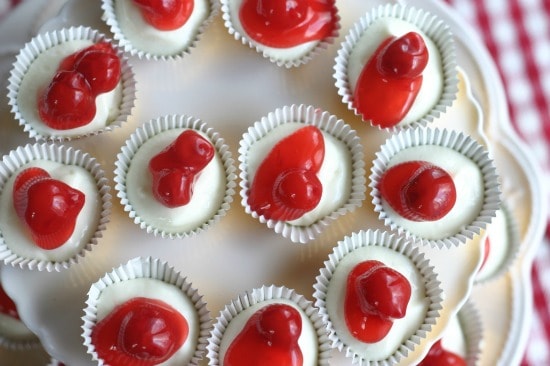 Baker Bettie's Best Pumpkin Pie (cream cheese is involved)