Get this chocolate cream pie recipe and tutorial! A flaky buttery crust, a rich chocolate pudding filling, and topped with light whipped cream and mini chocolate chips. This is one of my favorite pies from my childhood. Perfect for holidays and celebrations!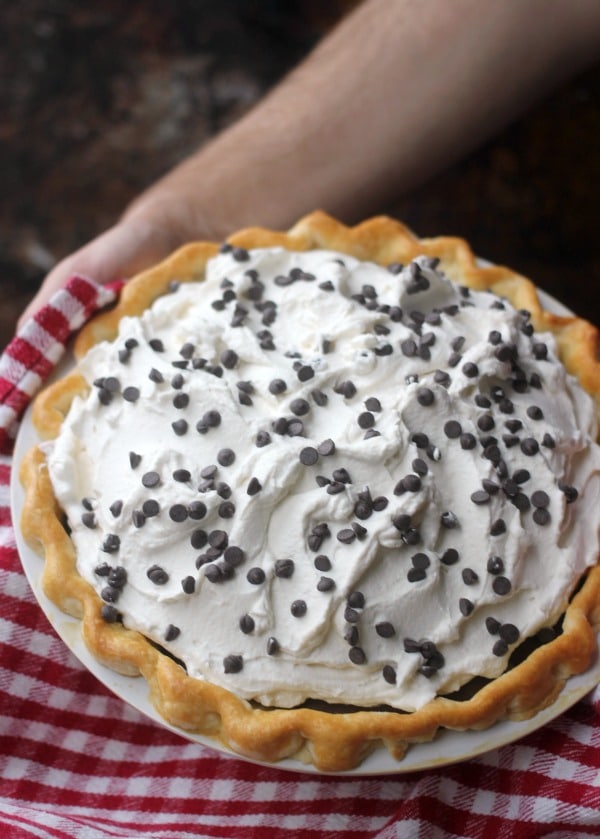 The closer we get to the holidays the more and more I get nostalgic about my home. I think about how lucky I am to have grown up in Kansas and I grow homesick of the familiar feeling that state will always bring me. It is difficult for me to express to people from the East Coast who have never experienced the Midwest why it has so much charm.
I often hear a hint of sympathy in people's voices when they say, "You're from Kansas?" What they don't know is that I feel a bit of sympathy for them never understanding what a truly amazing place it is to grow up.
Near my hometown in Kansas there are a couple of restaurants, one Amish and the other Mennonite owned, that both make damn good pie. They make all kinds of fruit pies but our favorites were always the cream pies. Peanut butter cream pie, coconut cream pie, banana cream pie, sour cream raisin pie, and my favorite- chocolate cream pie!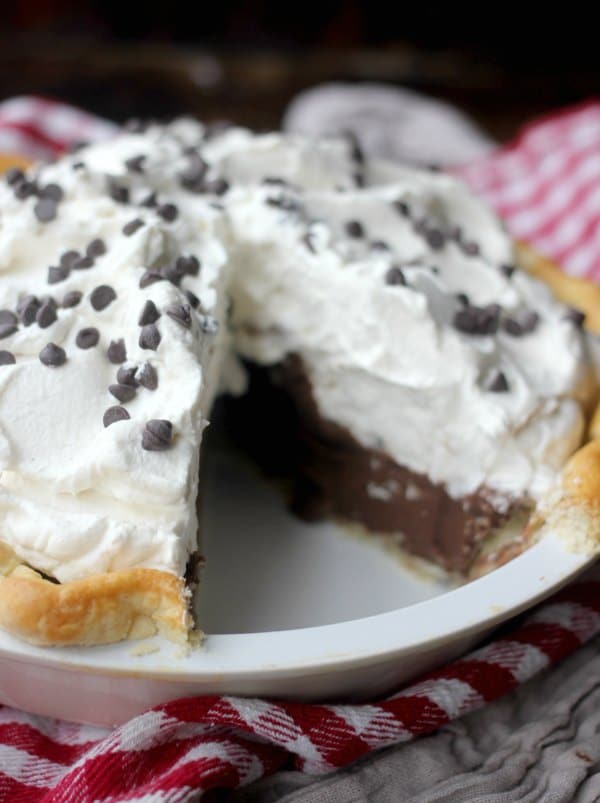 Last year about this same time I shared my recipe for French Silk Pie with you. We had the raw egg talk. I felt obligated to tell you that eating raw egg has risk. Then I told you that I take that risk almost daily and really don't think eating raw egg is a big deal. Some of you scolded me for this but most of you agreed with me for the sake of decadent french silk pie.
I also promised you a recipe that had a cooked filling in case the raw egg was something you couldn't do. And now I have to apologize because it is a year later and I am just now giving it to you. It's just that there was that whole finishing culinary school thing, and launching an online lifestyle magazine thing, and time just gets away from you.
What I love so much about this pie is it is equal parts chocolate pudding filling and real whipped cream. The mini chocolate chips are also a must in my book. Mostly because I love the texture contrast they give with a little bit of hard chocolate here and there, but also because that is how they make it at my favorite pie spot and therefore it is also nostalgic.
I tried a new pudding recipe for this filling. It comes from the book The Baker's Manual. (Side Note: every recipe I have used from this book has been absolutely fantastic Shout-out to my girl at Karista's Kitchen for generously giving it to me. I still owe you cookies lady!
So if you need a good baking book with all your basic recipes I definitely recommend this one!) This pudding recipe is much more luscious and rich than every other chocolate pudding I have made. I dare say that the filling is this pie mimics pretty closely the texture of a french silk pie. It definitely compares in richness and velvety smoothness.
Let me walk you through this pie…
[icon type="arrow-right"]Want to skip all the step-by-step pictures? Click here to jump the the recipe!
For the Crust-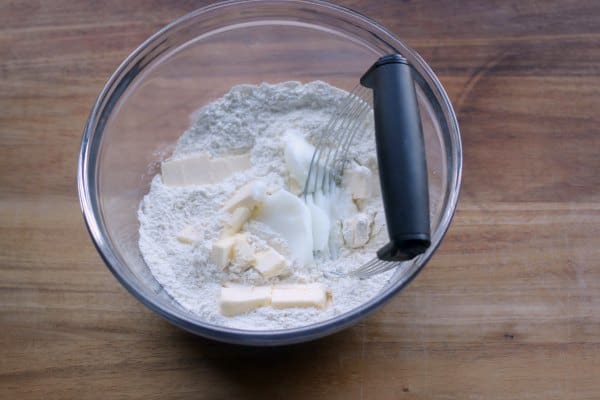 For the crust, it comes together very quickly. Whisk together the flour and salt in a large bowl. Then add your fat. For this crust I am doing a combination of butter and shortening. Sometimes I do all butter, sometimes all shortening, sometimes half and half. I like the butter flavor for this crust but am still looking for the tenderness the shortening brings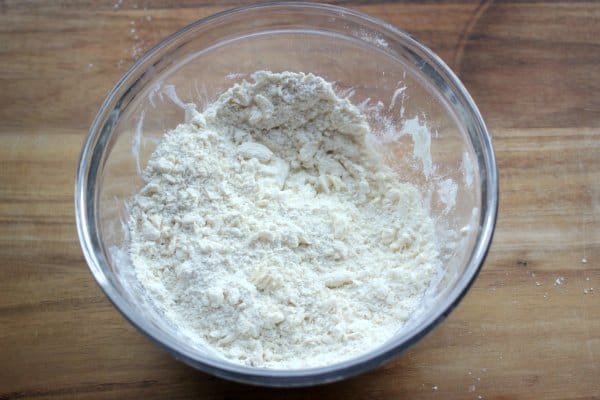 Using a pastry cutter, or a fork, cut the pieces of fat into the flour until the consistency of coarse meal.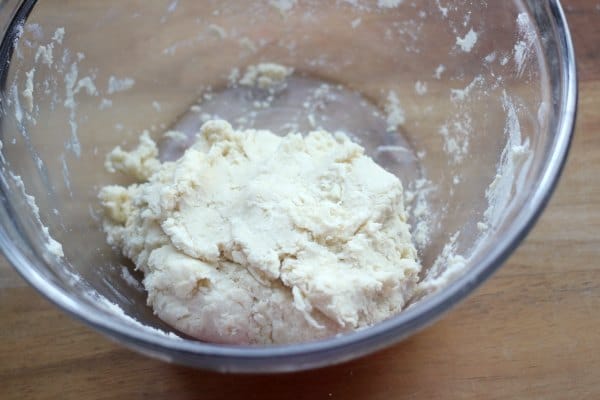 Gently stir in cold water, 1 TBSP at a time, until the dough comes together. If the dough feels really soft and has gotten warm from sitting out, put it in the freezer for a minute or two to solidify the fat before rolling it out.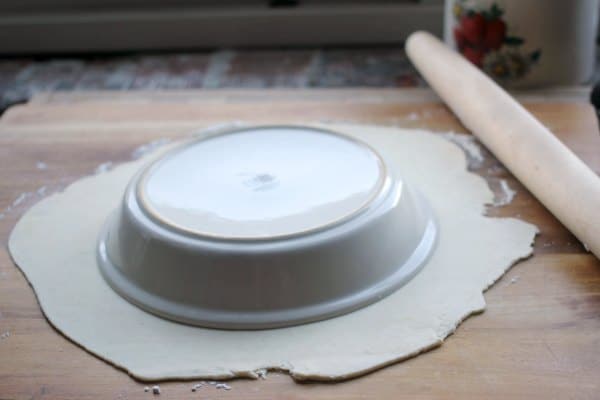 Being very gentle, roll the crust out on a lightly floured work surface. Work as gently as possible. You want the crust to be a few inches wider in diameter than your pie plate.
[feature_headline type="left" level="h4″ looks_like="h3″ icon="check-square-o"] Pro Baking Tip [/feature_headline]
Always start with your rolling pin in the center of the dough moving out to an edge. Never rolling back and forth from one edge to the other.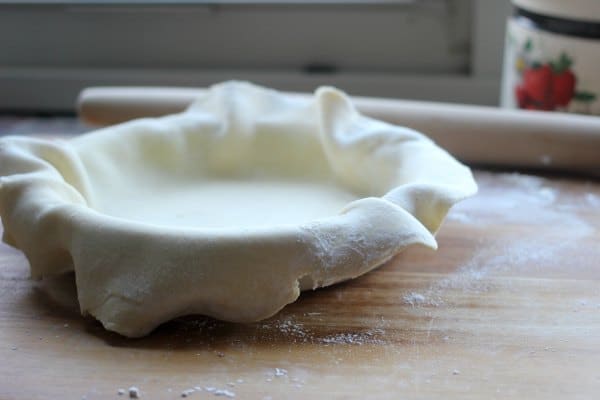 Carefully transfer the crust into the pie plate. Pull up on the edges to let it settle down into the plate. Trim the edges, leaving about 1″ excess crust on the sides.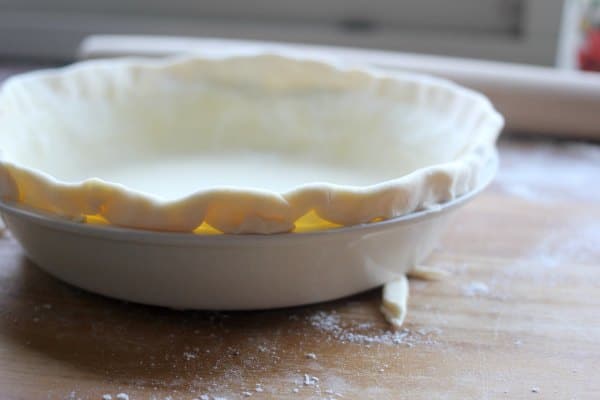 You can crimp the edges however you want. For this pie, I tucked the excess crust under to form a lip.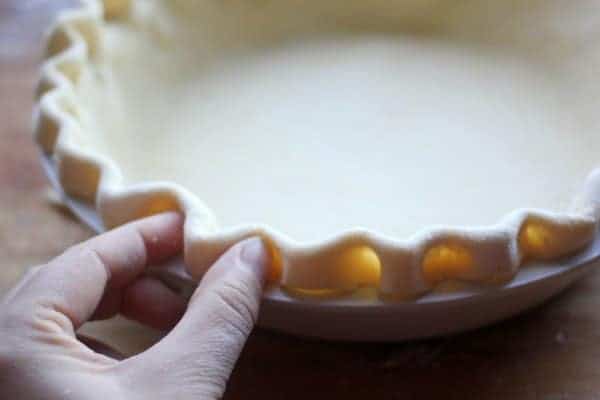 I think pinched the crust with my thumb and pointer finger to create pretty crimping.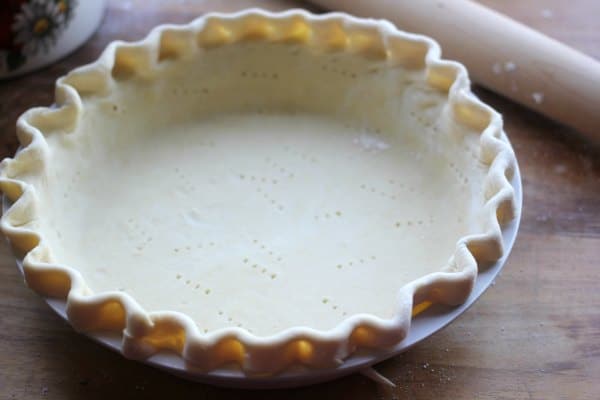 Take a fork and pierce the crust all over the bottom and on the sides. This is called "docking." The crust is then baked and cooled while the filling is made.
Speaking of the filling…
For the Chocolate Filling-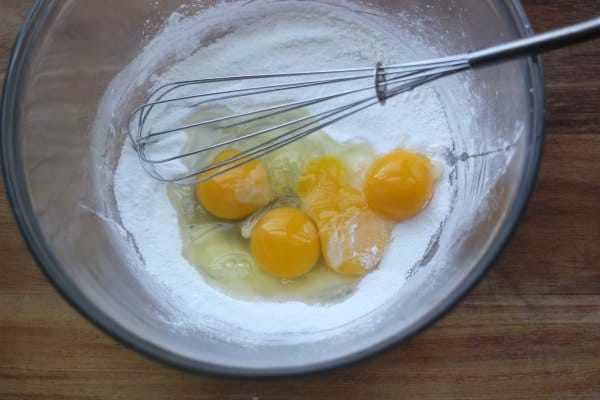 Start by whisking whole eggs, egg yolks, with sugar, cornstarch, and salt in a large bowl.
[feature_headline type="left" level="h4″ looks_like="h3″ icon="flask"] Baking Science Tip [/feature_headline]
When you think about the filling of the french silk pie and the chocolate cream pie you realize that eggs are the thing that thickens them both. The difference here is that the eggs are heated up so that the proteins coagulate which is what causes thickening along with the cornstarch for this chocolate cream pie.
For french silk pie, air is whipped into the eggs over a long mixing process to thicken the filling and the eggs are kept raw.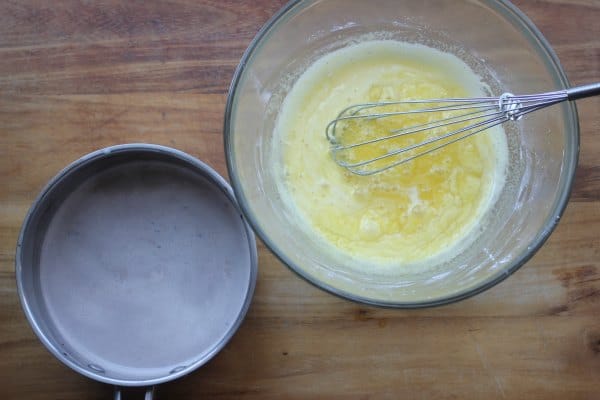 Next, heavy cream, milk, and cocoa powder is heated in a saucepan. This hot milk mixture is then very slowly streamed into the eggs while whisking continuously. You want to be very careful at first so that the eggs do not cook.
[feature_headline type="left" level="h4″ looks_like="h3″ icon="flask"] Baking Science Tip [/feature_headline]
The process of slowly incorporating hot liquid into eggs is called "tempering." By slowly adding in the hot liquid you bring the eggs up in temperature gradually which hopefully prevents giving us scrambled eggs.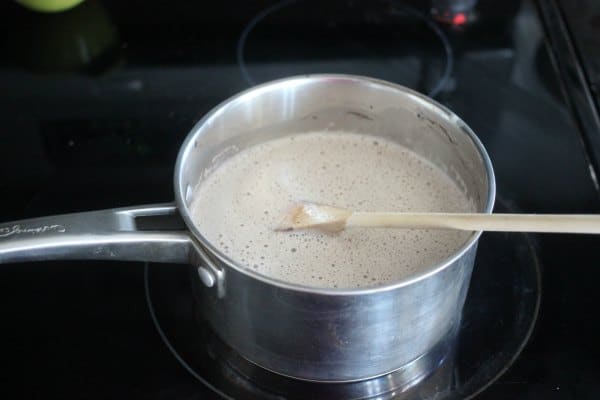 This egg/milk mixture is then heated on the stove until boiling and thick. It will become a pudding consistency here.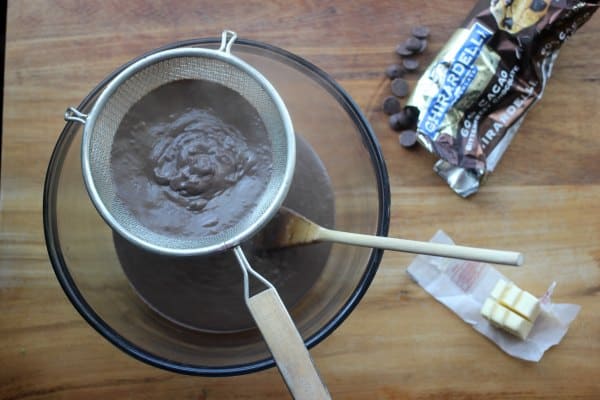 The hot thickened pudding mixture, that is a particular disgusting color of grey at this point, is then strained and chocolate and butter is mixed in. This will eliminate that gross grey color and give that beautiful dark chocolate pudding color. Yes!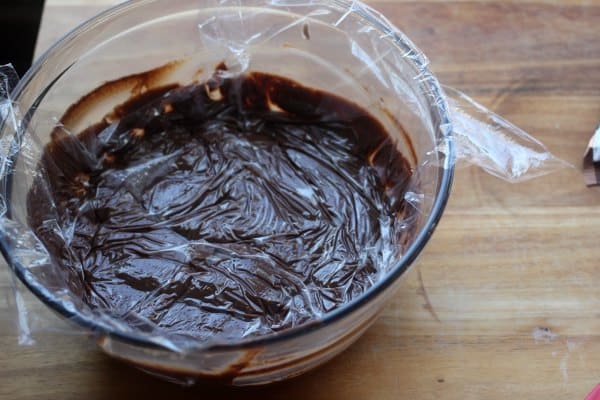 Now lay a piece of plastic wrap right on top of the pudding and let it cool in the refrigerator for about an hour before filling  the pie. After filled, the pie needs to set. This should take about 3 hours but it will hold up well if you want to make it the day ahead. Then just top with real whipped cream and mini chocolate chips! Viola!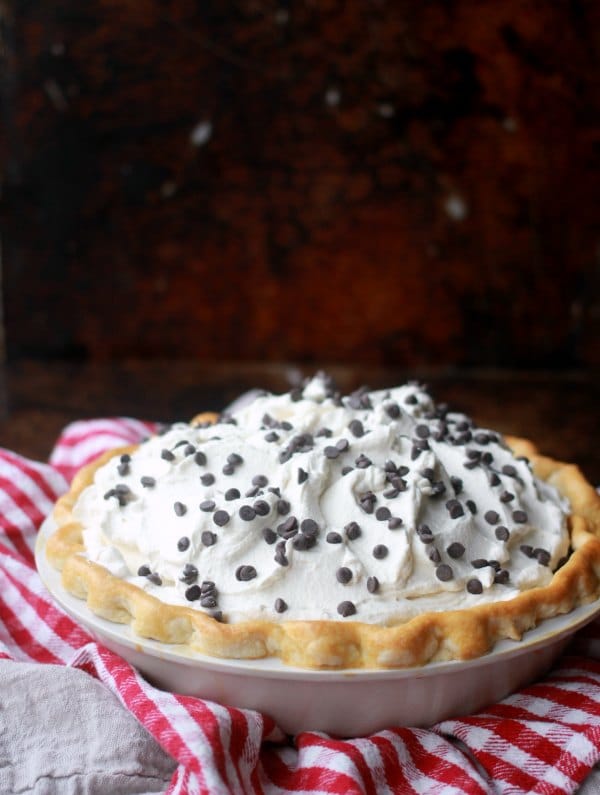 I have so much to be thankful for. My husband, our families, our cats, our home, our wonderful life in Philly, the ability to travel back to Kansas, our health, and just overall happiness.
And I probably don't say it enough to you, but I am SO THANKFUL for you. I truly enjoy reading every single one of your comments, emails, tweets, instagrams, facebook messages… all of it! I'm sorry if I am not able to always reply to every single one. I need just about 16 more hours in my day and I would be good to go! But, THANK YOU!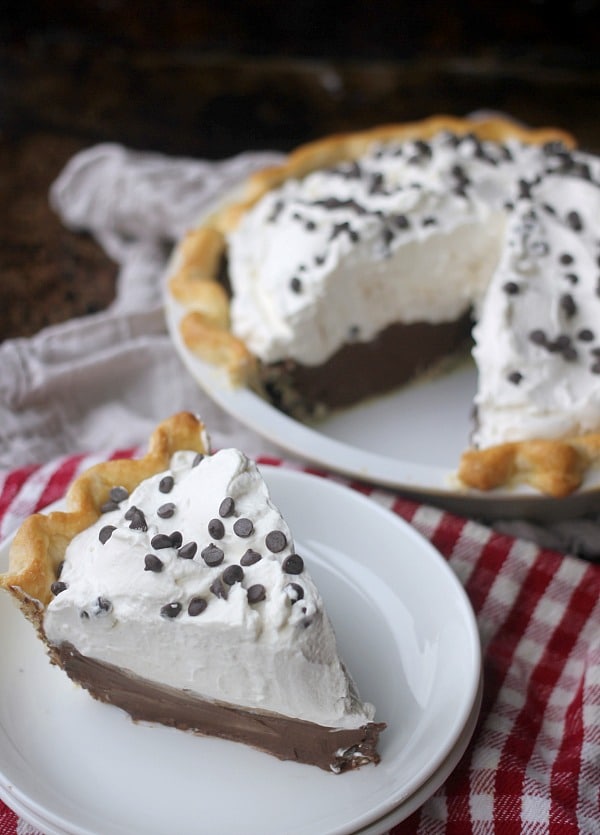 One Year Ago: French Silk Pie
Two Years Ago: Sweet Potato Casserole Cookies
Three Years Ago: Oven Hickory Smoked Ribs
Baker Bettie
Yields 1-
Chocolate Cream Pie
4 hrPrep Time
35 minCook Time
4 hr, 35 Total Time
Ingredients
For the Crust
1 1/2 cups all-purpose flour
kosher salt
1/4 cup shortening
1/4 cup cold butter, cut into small pieces
ice water (usually about 1/4 cup)
For the Filling
2/3 cup granulated sugar
2 1/2 TBSP cornstarch
1/8 tsp salt
2 large eggs
2 large egg yolks
2 cups milk
1 cup heavy cream
2 TBSP unsweetened cocoa powder
8 oz bittersweet chocolate, chopped or chips
2 TBSP unsalted butter, cut into small pieces
For Topping
1 1/2 cups heavy cream, cold
1/4 cup granulated sugar
1 tsp vanilla
1/2 cup mini chocolate chips
Instructions
For the Crust

Place the flour in a large bowl and add a large pinch or two of salt. Mix together. Add the shortening and cold butter into the flour and cut in using a pastry cutter or fork until the consistency of coarse meal.
Gently stir in water a TBSP at a time until the dough can form into a ball.
On a lightly floured work surface, roll the pie dough out until a few inches wider than your 9" pie plate. Carefully move the crust into the pie plate. Lift the edges up so that it lays into the pie plate without stretching.
Trim the edges so that there is about 1" extra. Fold the excess crust under itself and then crimp, pinching with your thumb and pointer finger.
Use a fork to pieces all over the bottom and the sides of the dough. Place the pie plate in the freezer while preheating your oven to 400F.
Position an oven rack in the bottom third of your oven. Line the crust with parchment paper and fill with pie weights, dry beans, or rice. Bake at 400F in the bottom third of the oven for 15 minutes. Remove the crust from the oven and remove the pie weights and parchment paper. Place back in the oven and bake for 10 minutes longer, until lightly browned.
Allow to cool completely on a wire rack before filling.

For the Filling

In a large bowl, whisk together the sugar, cornstarch, and salt. Whisk in the whole eggs and egg yolks.
In a sauce pan over medium heat, bring the milk, cream, and cocoa powder to a boil. Pouring very slowly, stream the hot milk mixture into the eggs while whisking continuously. Return the mixture to the saucepan and cook over medium-low heat stirring continuously until the mixture just reaches a boil and thickens.
Strain the hot thickened pudding mixture into a large bowl. Stir in the chocolate and butter until smooth. Lay a piece of plastic wrap directly on top of the filling and refrigerate for about an hour before transferring to the crust.
Pour the cooled chocolate filling into the cooled crust. Allow to set in the refrigerator for about 3 hours and up to 24 hours before topping and serving.

For the Topping

In a large bowl with a hand mixer, or the bowl of the stand mixer fit with a whisk attachment, whip the heavy cream on high speed until starting to thicken. Add in the sugar and vanilla and whip to medium peaks.
Top the pie with the whipped cream and sprinkle with chocolate chips.
Notes
Crust recipe adapted from my Basic Pie Crust Recipe
Filling recipe adapted from The Baker's Manual Chocolate Cream Pie Filling
7.6.4
140
http://bakerbettie.com/chocolate-cream-pie-recipe/
Products I used for this recipe…
Disclaimer: Please note that the links below are affiliate links and I will earn a commission if you purchase through those links.
[AMAZONPRODUCTS asin="B009VUHLHA"][AMAZONPRODUCTS asin="B000QJE48O"][AMAZONPRODUCTS asin="B003UVP2CC"]