Basic Scone Recipe, Bakery Style Blueberry Scones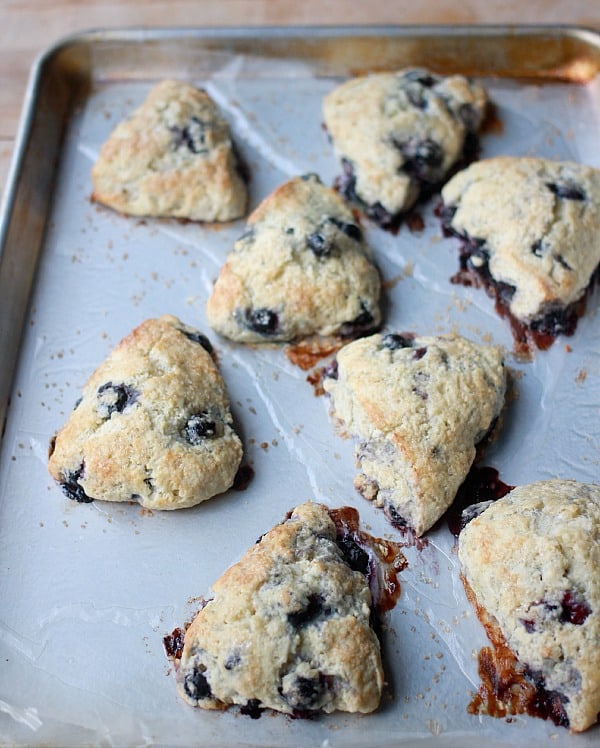 Whenever I think of scones I immediately think of the coffee shop in the union at The University of Kansas and their blueberry scones. I don't think I will ever have a scone that compares. The most perfectly crafted blueberry scone. Slightly crisp on the outside, puffy cloudy and tender on the inside, with just the right amount of of sweetness and a crunchy turbinado sugar coating. Absolutely addictive.
And I'm always trying to recreate those scones, because let's face it, there are a lot of really bad scones out there. And the main problem is with the technique, not necessarily the recipe. So please allow me to show you how to make scones that will be bakery quality!
---
WHAT ARE SCONES? 
Scones are in a category of the baking world called quick breads. We talked about this with biscuits, but basically it just means that scones (and other quick breads) can be made and baked quickly because we are not using yeast for the rise of this product.
Baking powder is what is used to make a scone rise and you may notice that this recipe has a lot of baking powder in it. This helps the scones be very fluffy.
There are varying definitions of scones across the world, but this is generally what is known as a scone in America and what is seen in many American bakeries.
Scones are very similar to an American biscuit, however, they are typically sweetened and sometimes made with a glaze and because of these things they feel more like a pastry than a biscuit does. Scones are made in a variety of shapes such as circular, square, rectangle, or triangle or even sometimes sort of free form like a drop biscuit might look.
---
HOW TO MAKE SCONES
We talked Friday about The Biscuit Mixing Method and the importance of this method to make beautiful fluffy biscuits. Well today, we are back at it again with scones! The Biscuit Mixing Method is equally important to make beautiful bakery style scones as it is for biscuits. This is an easy base recipe for scones. I just happened to use it for blueberry scones. We'll talk about other ways you can flavor these after we go through the method.
I will quickly review the basic steps in using The Biscuit Mixing Method here, but for more details about how and why this method works and all of the science behind it, check out this post. 
---
STEP 1: COMBINE ALL DRY INGREDIENTS
In a large bowl (this will be the bowl your dough gets mixed in) whisk together all of your dry ingredients. The dry ingredients for scones are almost identical to biscuits with the addition of sugar and the subtraction of baking soda because we are not using buttermilk here. So we have ap flour, sugar, baking powder, and salt. Whisk until combined.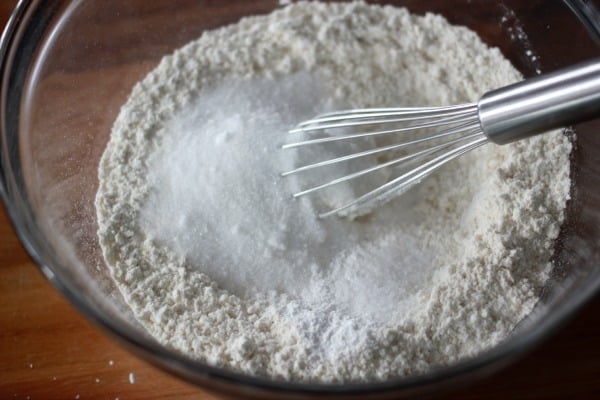 STEP 2: CUT YOUR FAT INTO YOUR DRY INGREDIENTS
Add your very cold pieces of butter into the bowl and use a pastry cutter or a fork to "cut" the fat through the dry ingredients. Until it resembles coarse meal.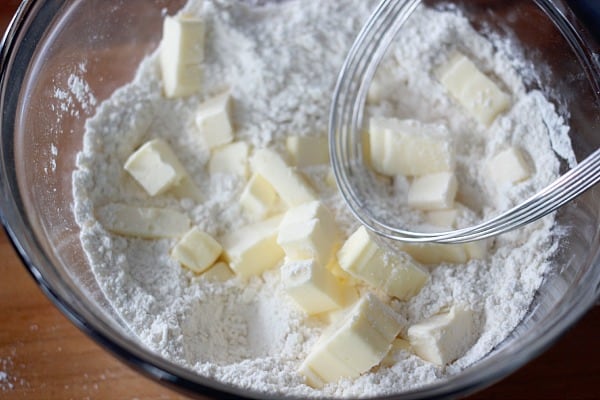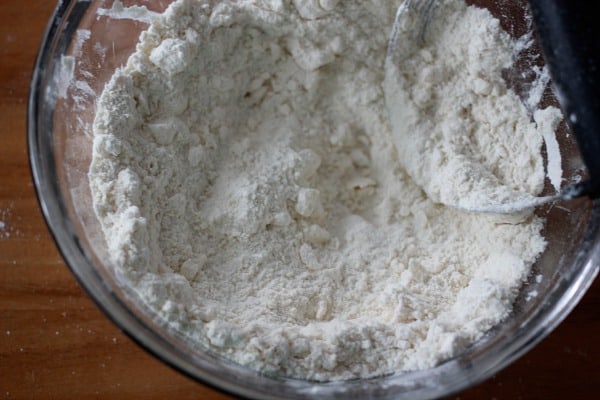 STEP 3: IF USING, MIX IN YOUR ADD-INS
I used blueberries for these, but this is the spot where you would mix in things like berries, chocolate chips, nuts, etc… This way the add-in will get distributed throughout the dough before the liquid is added. If you try to mix it in after adding the liquid it could result in overworking the dough and getting tough scones. I've had many of those. We don't want that!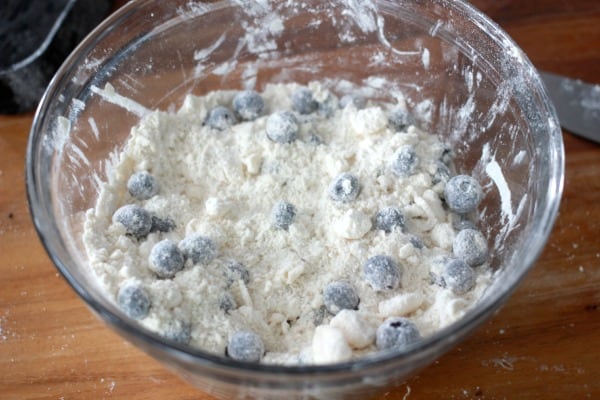 STEP 4: MIX IN THE LIQUID INGREDIENTS
The liquid to dry ingredient ratio here is slightly less than with my buttermilk biscuit recipe. Instead of using a cup of buttermilk we are going to use 1/2 cup of heavy cream and 1 large egg. The total of this liquid will be about 3/4 cup. The reason the liquid is a bit less here is that we do want a bit of a sturdier, denser crumb here. Not tough and dry. Just not quite as fluffy and moist.
Whisk the egg together lightly with the cream and add it into the bowl. I'm sure you remember me stressing the point that you do not want to overmix here! Just a few turns of the spoon to get everything absorbed and then stop! Those gluten strands are going to start developing as soon as the liquid is added. We aren't making a crusty chewy yeast bread here! Let's be gentle!
STEP 5: LIGHTLY KNEAD AND PAT OUT DOUGH
If you remember with the biscuits, we really barely kneaded it. Just folded it over itself lightly a few times. With these scones we are going to actually knead it about 4 times. This will give us a bit of a crustier outer crust and a bit more structure. These are very small differences between biscuits and scones, but they matter.
Lay the dough out on a clean and lightly floured work surface. With a lightly floured hand, gently press in the center of the dough with the heel of your hand and then fold the dough over itself in half. Gently press down on the dough with the heel of our hand again and fold it in half doing the other way. Repeat this 2 more times.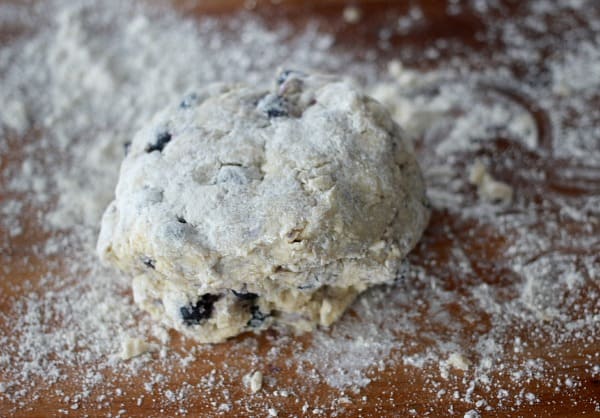 Now using lightly floured hands, pat the dough out into about an 8 or 9 inch circle. No need to use a rolling pin here. In fact just don't do it! Your hands are perfect and will help not overwork the dough. Cut the circle into 8 triangle pieces.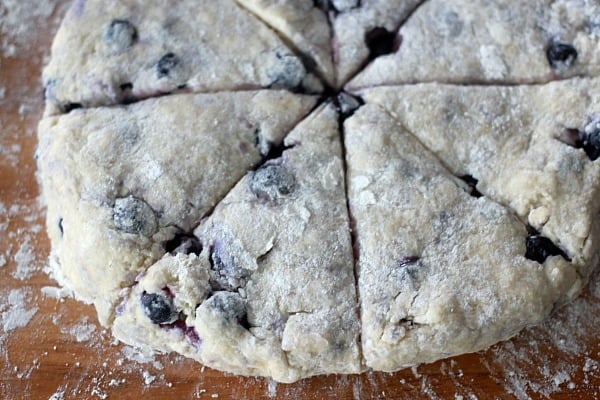 STEP 6: PAN AND BAKE THE SCONES
Gently move the scones onto a baking sheet lined with parchment paper or a silicone baking mat. Brush the scones with a bit of cream and sprinkle liberally with turbinado sugar. Bake until golden brown. Eat warm with coffee or tea. Try not to eat the whole pan. It's a challenge.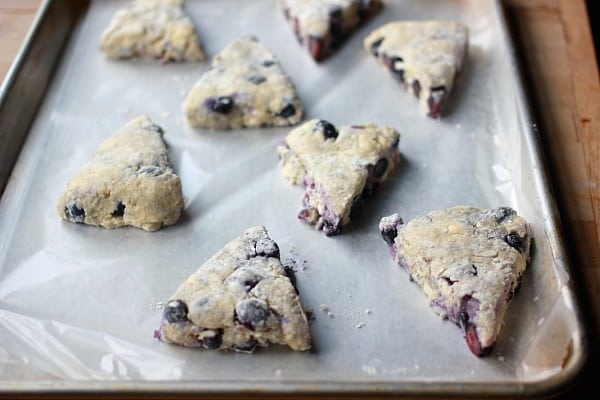 ---
TIPS AND TRICKS FOR MAKING PERFECT SCONES
Always make sure your fat and liquid ingredients are cold. You want a cold dough to hit the oven. The steam created from the evaporation of the water helps create lighter scones.
Be very gentle with the dough and handle as little as possible. The heat from your hands will warm up the dough and working the dough too much will result in tough scones.
This recipe makes a sweet scone which is what we are used to in America. If you want a less sweet scone, cut down on the sugar in the recipe by half.
If using berries in these scones use either fresh or frozen berries that are still completely frozen. You do not want to use thawed berries here.
Bake the scones on parchment paper or a silpat to avoid the bottoms from getting too dark.
---
IDEAS FOR FLAVORING YOUR SCONES
ADD SPICES such as cinnamon, nutmeg, cardamom, clove, allspice, ginger, etc… Add spices into the dry ingredients when mixing.
ADD HERBS such as mint, basil, rosemary, thyme, etc… Add herbs into the dry ingredients when mixing.
ADD CITRUS ZESTS such as orange, lemon, lime, grapefruit… Add zests into the liquid ingredients when whisking them together.
ADD EXTRACTS such as vanilla, lemon, almond, anise, mint… Add extracts into the liquid ingredients when whisking them together.
ADD MIX-INS such as fresh or fully frozen berries (blueberries, raspberries, cherries, strawberries), chocolate chips, toasted coconut, chopped nuts (pecans, almonds, pistachios), etc… Add mix-ins in after cutting in the butter and before adding the liquid.
ADD A GLAZE OR FROSTING if you want more of a dessert scone. A citrus glaze (lemon, orange, etc…) or a light cream cheese frosting can be added after baking and cooled slightly for a sweeter more dessert by scone.
---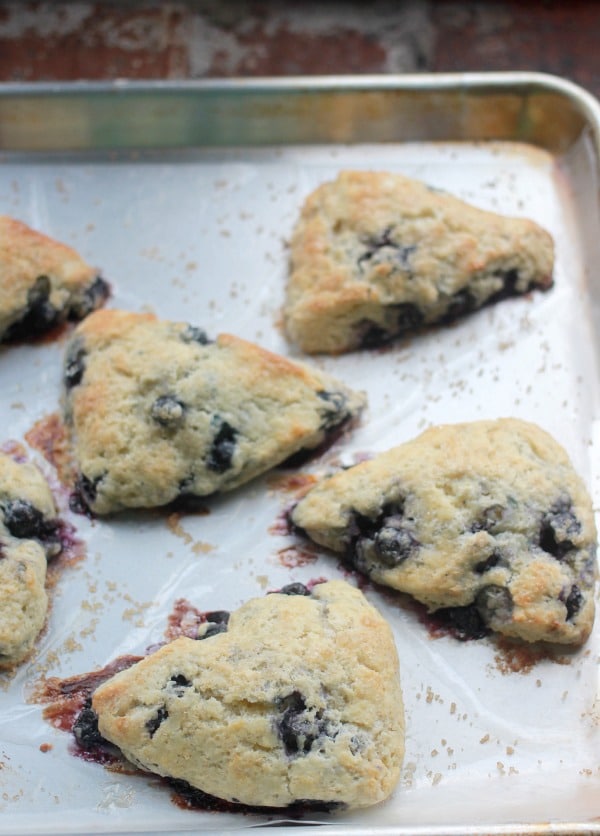 Mr. BB and I finished these in like two days… Probably less. They are quite addicting. Of course they are best served warm with a piping hot cup of black coffee.
All I have this morning is yogurt and no scones. They are long gone. But these are so incredibly easy to throw together that you could theoretically have fresh scones every morning. Wouldn't that be the life?!
---
Recipe adapted from Pinch of Yum's Bakery Style Blueberry Scones

Baker Bettie
Yields 8
Basic Scone Recipe
*This is a basic recipe for scones. I used it to make blueberry scones, however it can be used to make plain scones or can be flavored however you desire. If you prefer a scone that is not very sweet, cut down on the sugar to 1/3 or 1/4 cup. See the post notes for other ideas on how to flavor the scones.
10 minPrep Time
20 minCook Time
30 minTotal Time
Ingredients
2 cups all-purpose flour
1/2 cup granulated sugar
1 TBSP baking powder
3/4 tsp kosher salt
1/2 cup very cold unsalted butter, cut into very small cubes
1 large egg, cold
1/2 cup heavy cream, cold
1 cup fresh or frozen blueberries or other mix-in (optional)
a few tablespoons of additional heavy cream for brushing the tops
turbinado sugar for sprinkling the tops
Instructions
Preheat the oven to 400 degrees F.
In a large bowl whisk together the flour, sugar, baking powder, salt, and any other herbs or spices you may choose to add until well combined.
Add the pieces of cold butter and cut into the dough using a pastry cutter or a fork until the texture or coarse meal. Toss your berries or other mixins if using throughout the mixture at this point.
Lightly whisk together the heavy cream, the egg, and any zests or extracts you may decide to use. Stir just until combined. Do not overmix.
Lay the dough out on a lightly floured work surface and lightly knead with a lightly floured hand about 4 times. Pat the dough out to an 8 or 9 inch circle (about 1 inch thick) and cut into 8 triangle shaped pieces.
Gently transfer the scones onto a parchment paper or silicone baking mat lined baking sheet. Brush lightly with cream and sprinkle liberally with turbinado sugar.
Bake at 400 degrees F for 18-20 minutes until golden brown. If desired, sprinkle with extra turbinado sugar for more texture.
Store leftovers completely cooled in an airtight container for up to 2 days.
Notes
7.6.4
122
http://bakerbettie.com/make-scones-basic-scone-recipe/
Products I used for this recipe…
Disclaimer: Please note that the links below are affiliate links and I will earn a commission if you purchase through those links.
[AMAZONPRODUCTS asin="B00004OCNJ"][AMAZONPRODUCTS asin="B000QJE48O"][AMAZONPRODUCTS asin="B00HG5OXIW"]