This is my recipe for the best creamy pumpkin pie! In my opinion this is THE pumpkin pie to end all pies! The filling is luscious, silky, and totally decadent. Find out the secret ingredients to make this pie over the top!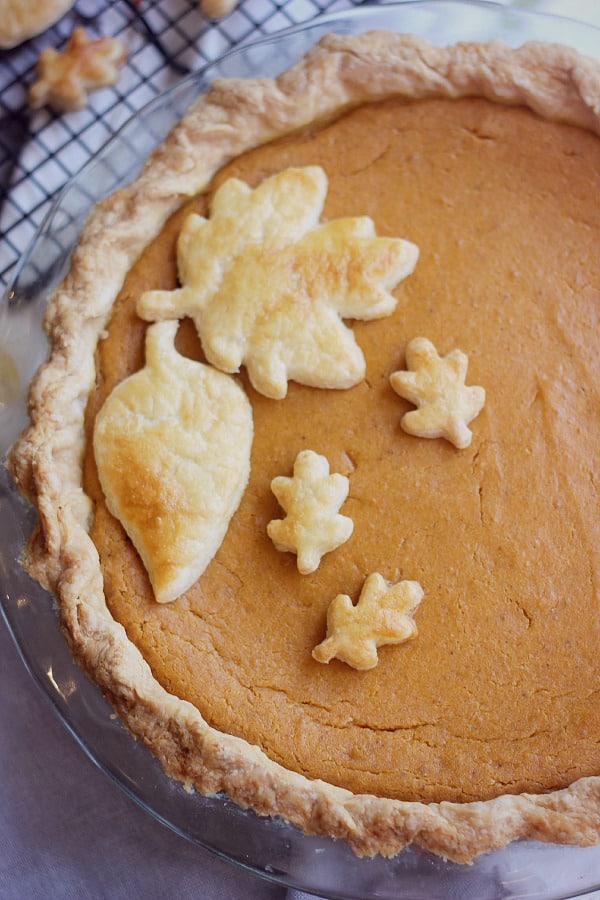 I want you to listen to me closely. If you are making pumpkin pie this week you should make this one. I'm serious. I'm seriously serious. This is THE pumpkin pie. It is creamy and spicy and sweet and full of Fall in every bite. Again I say: This is THE pumpkin pie. Am I making myself clear?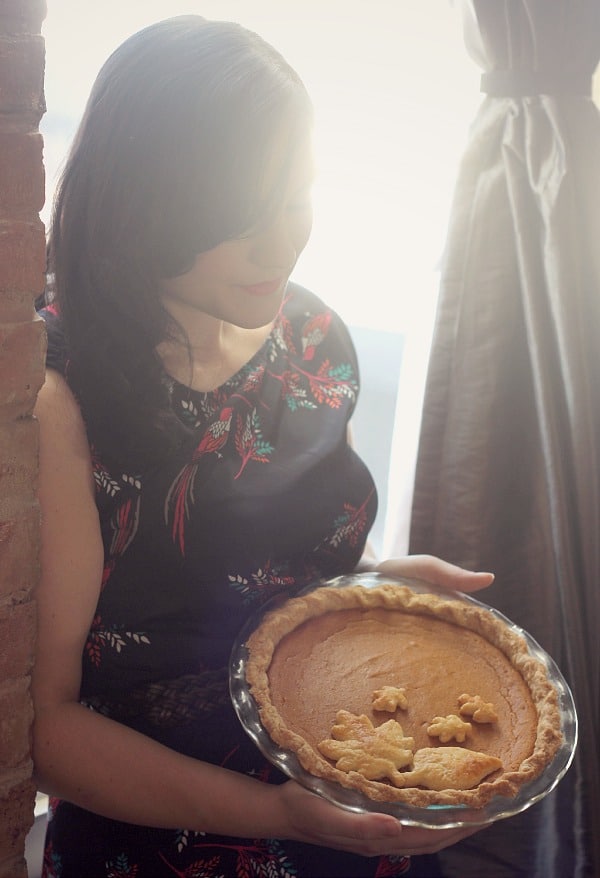 Yeah sure. I know what you are thinking. It looks like an ordinary pumpkin pie right? Well stop thinking that! Just stop right now. Because this pumpkin pie is on a whole new level.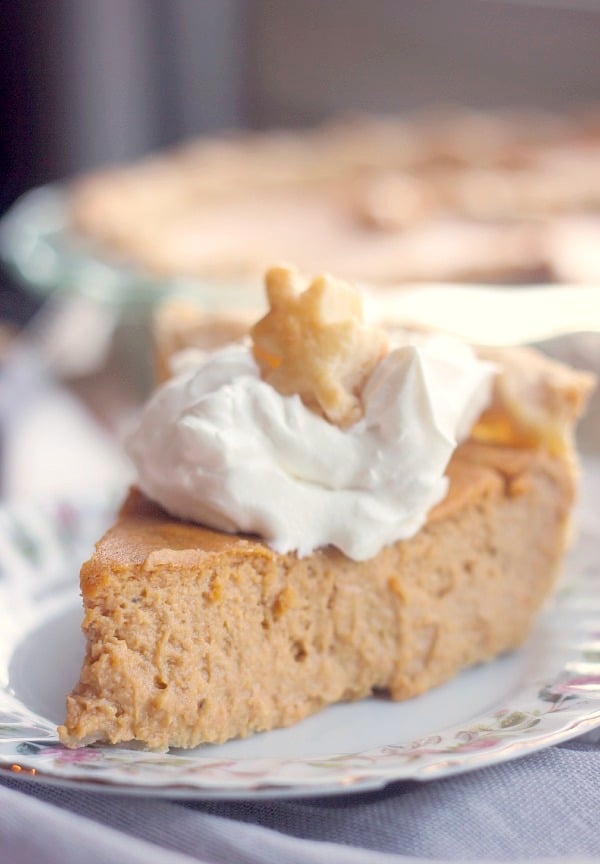 It starts with cream cheese. Just enough cream cheese to add a wonderful creamy texture but not too much that it starts to move toward a cheesecake flavor. It also combines both pumpkin and candied yams as part of the filling.
It is a hybrid pie. It brings the fall spices that all pumpkin pies must have along with the molasses (from the brown sugar) that most sweet potato pies bring to the party. A touch of heavy cream (and by a touch, I mean, almost a whole cup of it) is swirled into the batter to up the creamy and decadent factor.
Finally, I added just a touch of dark rum because…do I really need to explain that?! It isn't absolutely necessary in the recipe, but I highly recommend doing it. THE pie really is just perfect. Just absolutely perfect.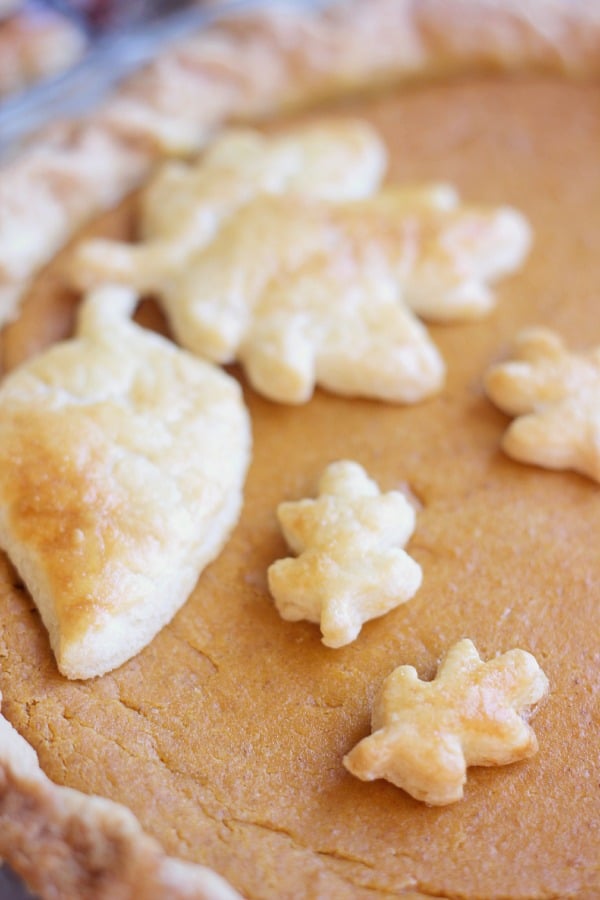 You're all adults here and can make your own decisions. But if I could tell you what to do, I would demand that you make this pie instead of the one off the back of the can. Don't make that pie. Just don't. It's the holidays and this is no time for ordinary!
Also, it's nice to share. I shared with Wyatt. (well, I let him lick the plate) He loved it.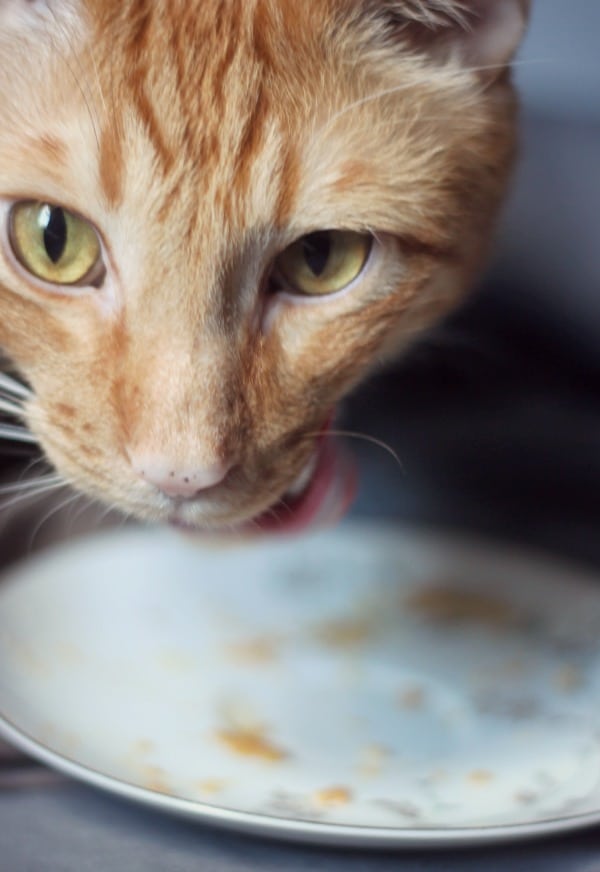 We're headed to Kansas this week to see all of our family and friends. I couldn't be more excited. I hope you all will have a relaxing holiday with family and friends as well!
I am thankful for each of you that visits my blog. You make blogging so exciting and rewarding. I love you all!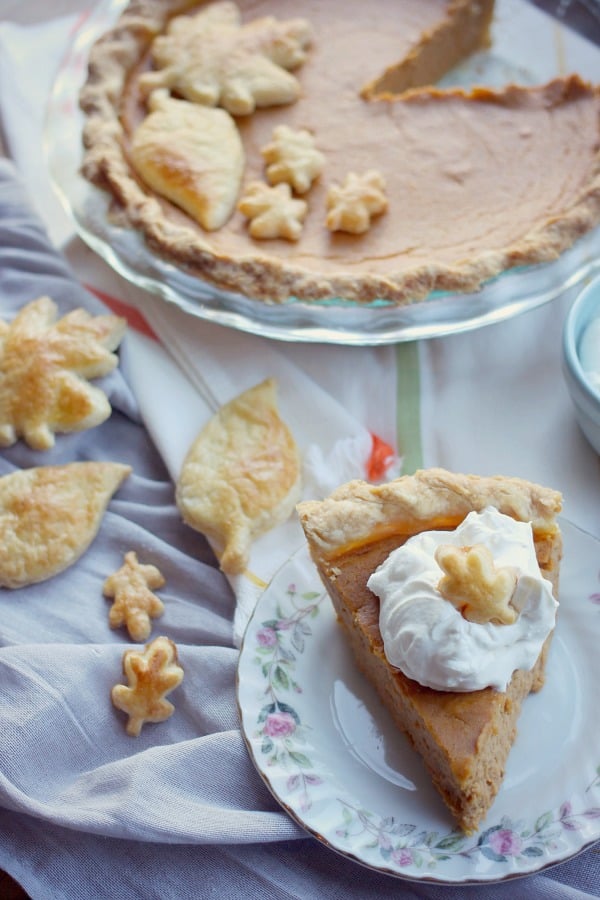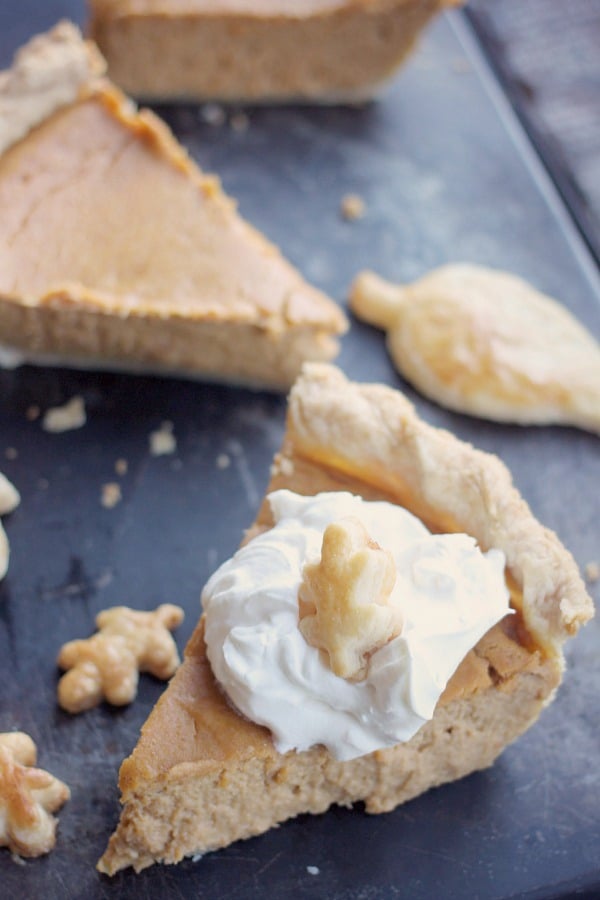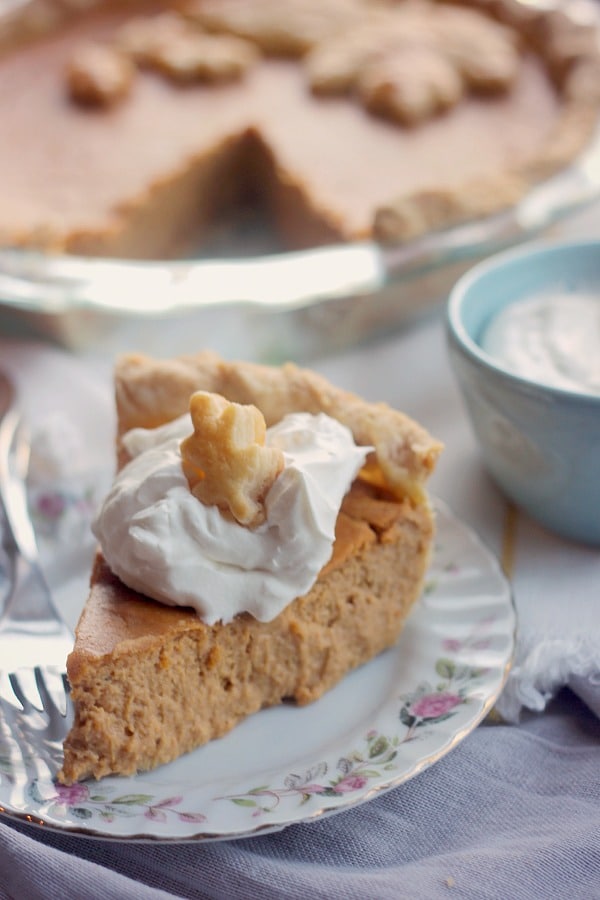 One Year Later: Creamy Herbed Mashed Potatoes
One Year Ago: 10 Ways to Use Thanksgiving Leftovers
Two Years Ago: Buffalo Chicken Mac and Cheese

Yields 1-
The Best Creamy Pumpkin Pie
30 minPrep Time
1 hr, 30 Cook Time
2 hrTotal Time
Ingredients
For the Crust
2 cups all-purpose flour
1/4 tsp kosher salt
1/4 cup sugar
2/3 cup cold unsalted butter, cut into small pieces
ice water
For the Filling
8 oz cream cheese, room temperature
15 oz canned pumpkin
15 oz can candied yams, drained and mashed
3/4 cup dark brown sugar
1/4 tsp kosher salt
1 tsp pumpkin pie spice
1 TBSP dark rum (optional)
1 egg, plus 2 egg yolks
1/4 cup melted butter
3/4 cup heavy cream
Instructions
For the crust

Preheat the oven to 350ºF.
In a large bowl, whisk together flour, salt, and sugar. Cut the butter into the flour mixture using a pastry cutter until it is the texture of coarse meal. Stir in water into the mixture 1 TBSP at a time until the dough starts to form into a ball.
Gently roll out the dough into a circle and place in a 9? deep dish pie plate. Trim and crimp the edges. Prick the dough with a fork all over the bottom and the sides. Place in the freezer for 10 minutes until firm.
Place a piece of parchment paper over the pie dough and fill with rice, dried beans, or pie weights. Place the pie plate on a baking sheet and bake at 350ºF for 12 minutes. Remove the pie weights and parchment paper and place back in the oven until browned. About 10 more minutes. Allow to cool on a wire rack before adding the filling.

For the filling

In the bowl of a stand mixer fitted with a paddle attachment, beat the cream cheese until smooth and creamy. Add the pumpkin and the yams and beat until smooth, scraping down the bowl.
Add the dark brown sugar, salt, pumpkin pie spice, and rum and mix until incorporated. Scrape down the bowl. Add the egg and egg yolks and the butter. Stir in the heavy cream.
Over a large bowl, pour the mixture through a fine mesh sieve. Use a rubber spatula to force the mixture through the sieve.
Pour into the pre-baked pie shell and bake at 350ºF for 75-90 minutes or until set and no longer jiggly in the middle.
Cool on a wire rack at room temperature. Serve with whipped cream.
7.6.4
75
http://bakerbettie.com/best-pumpkin-pie/